22M Pumpcrete Truck Machine Works In Philippines
The pumpcrete truck is popular due to its flexible movement and strong adaptability. Our customer from Philippines purchased a 22m pumpcrete truck machine from our company. At present, this 22m pumpcrete machine has working in the construction site.
The pumpcrete truck machine is also named the concrete boom pump because the concrete placing boom is installed in the chassis. When you purchase this machine, you should choose the suitable lengths of concrete placing boom depending on your projects. This customers chose the 21m pumpcrete truck brcause he didn't need to transport the concrete to very high heights. There are some working pictures.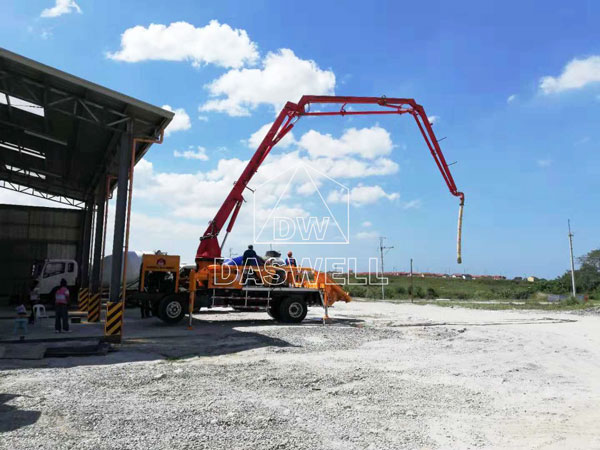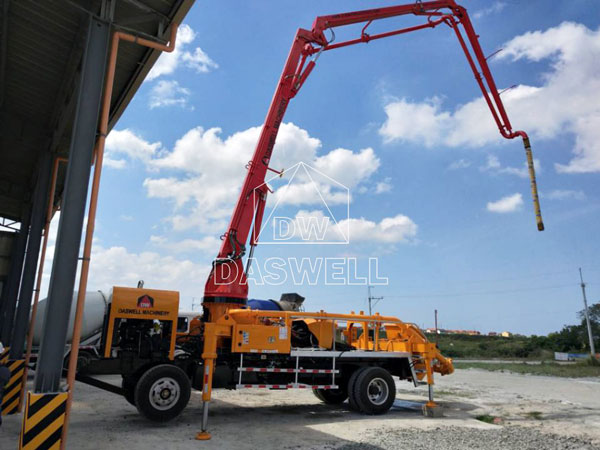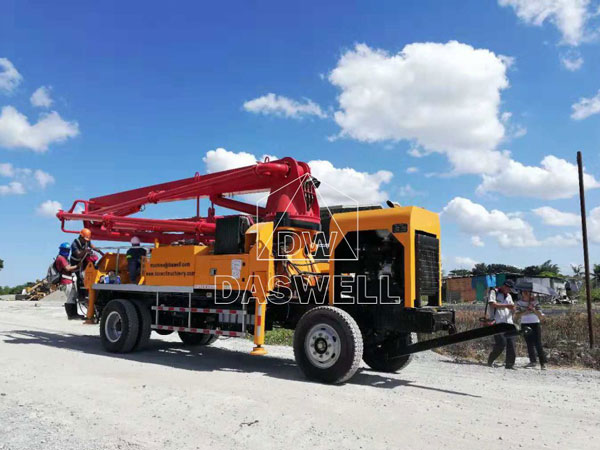 22m pumpcrete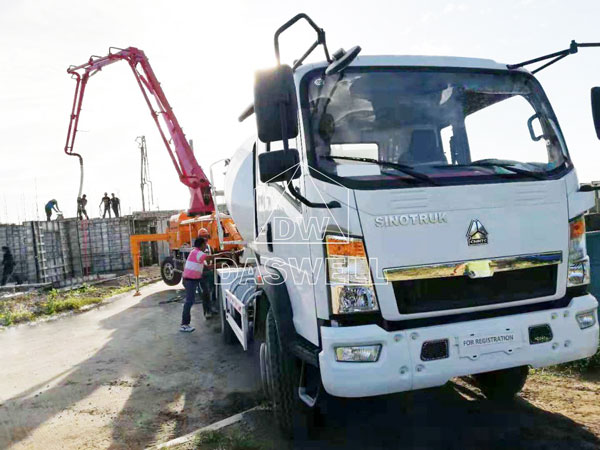 work in the construction site
Parameter
TMBP22
Whole truck
Drive way
4×2
Engine
Yuchai
Output power/speed (kw/rpm)
147/2000
Emission standard
Euro V
Tire size
9.00R20 16PR
Arm & leg
Vertical height (m)
21.9
Horizontal length (m)
18.1
Vertical depth (m)
Fold type
M (three arms)
Rotary angle (°)
±360
Pumping system
Theoretical pumping pressure (MPa)
Low pressure
8.5
High pressure
10.5
Distribution valve
S valve
Delivery cylinder inner diameter/stroke (mm)
200/1200
Hopper capacity (m3)
0.65
Feeding height (mm)
1450
Pipe diameter (mm)
125
Maximum aggregate size (mm)
40
Other successful cases of concrete pump
Our Daswell Machinery is reliable concrete pumping machine supplier in China. Of course, we also set up our branch office and warehouse in Philippines. Besides pumpcrete truck for sale, we also exported other types of cement pump machine to Philippines, such as concrete mixer pump for sale, stationary concrete pump machine, small portable concrete pump, etc. Here are some other cases for your reference.
When you plan to get a concrete pump machine, the crucial thing you should notice is to look for a reputable manufacturer in order to pruchase a high-quality product. Our Daswell Machinery is an ideal choice for you. Welcome to leave your message to us. We will reply you as soon as possible.