Capacity:25m3/h - 240m3/h
Types:Stationary/Mobile type
Wide application: Used for railroad, highway, bridge, hydropower and water conservancy project, mining and civil construction, as well as commercial concrete production, etc.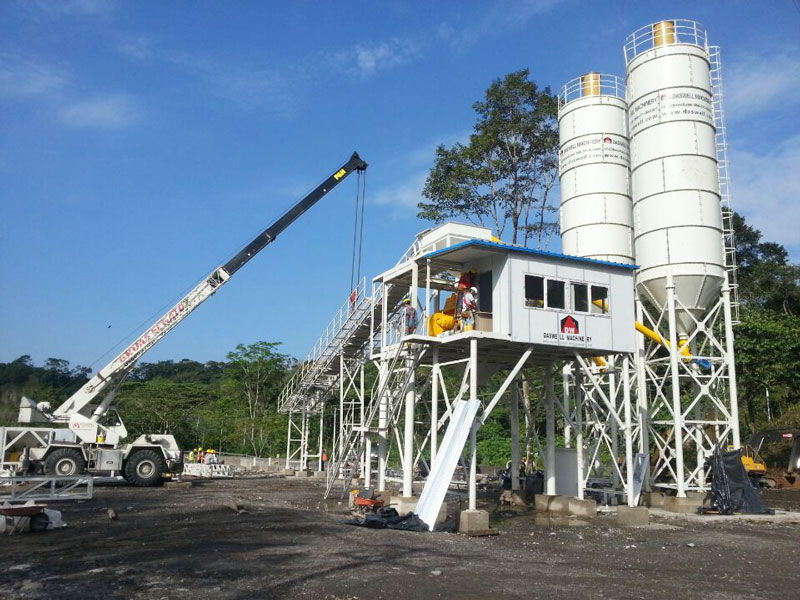 What is ready mix concrete plant?
Ready mix concrete plant for sale can produce ready-mixed concrete by mixing the cement, water, powder and other additives according to a certain proportion. Then the ready-mixed concrete is transported to the construction sites by the concrete mixer truck for sale.
Ready mix concrete batch plant for sale can be concentrated to produce the concrete in large quantities. So it is widely used for the building construction, road construction, bridge construction and so on. In addition, because the ready mix concrete batching plant can produce high quality commercial concrete, these commercial concrete also can be sold.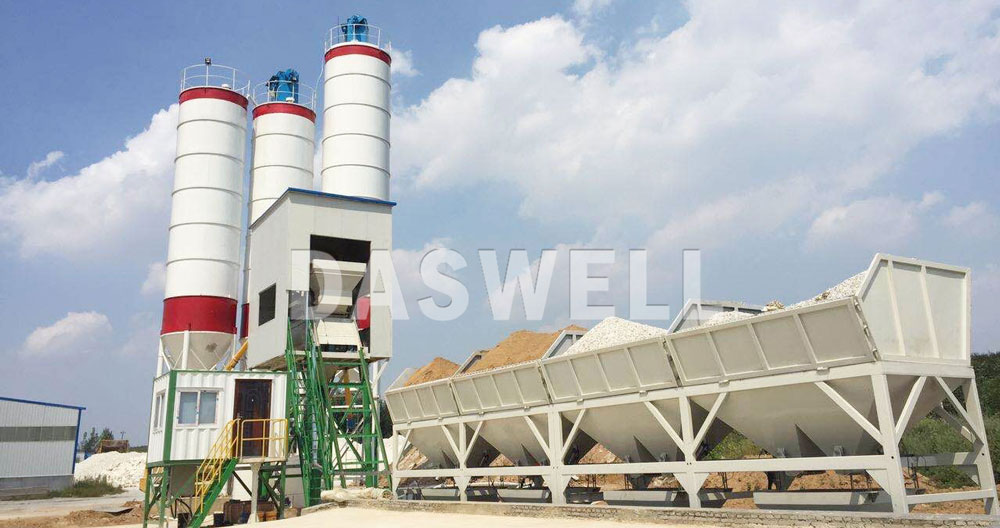 Stationary type VS Mobile type plant
Stationary type ready mixed concrete plant includes two different types, skip hopper type and belt conveyor type. These two kinds of concrete ready mix plants work for different projects.
The skip hopper of ready mix concrete batch plant has smaller occupation area and good working efficiency, which is suitable for your own construction projects.
While the belt conveyor type ready mixed concrete mixing plant can produce higher quality concrete and have larger production capacity. So it is more suitable for these projects selling the commercial concrete.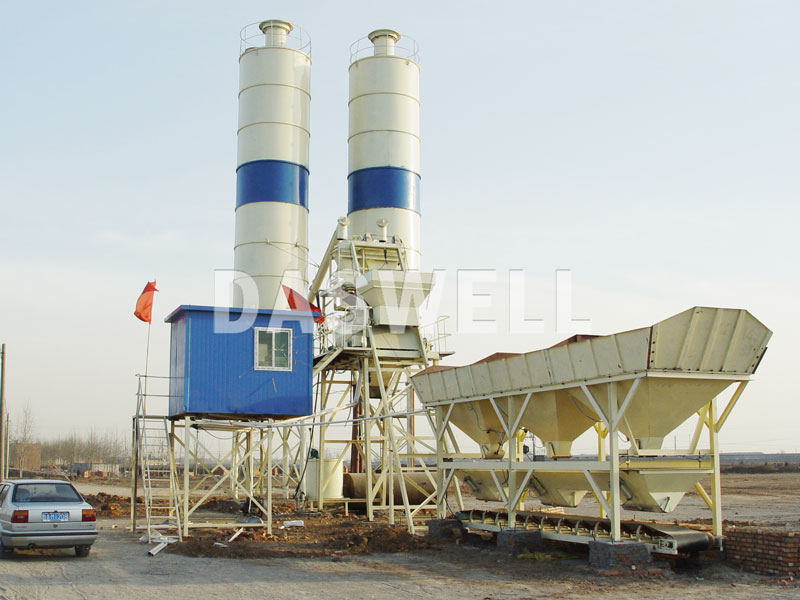 Skip hopper type
Model

CBP25

CBP35

CBP50

CBP75

Capacity (m³/h)

25

35

50

75

Mixer

TCM500

TCM750

TCM1000

TCM1500

Aggregate Bin

ABM800

ABM1200

ABM1600

ABM2400

Discharge Height (m)

3.8

3.8

3.8

3.8

Cycle Time (s)

72

72

72

72

Weighing
Accuracy
(%)

Aggregate

±2

±2

±2

±2

Cement

±1

±1

±1

±1

Water

±1

±1

±1

±1

Additive

±1

±1

±1

±1
Belt Conveyor type
Model

CBP60

CBP90

CBP120

CBP180

CBP240

Capacity (m3/h)

60

90

120

180

240

Mixer

TCM1000

TCM1500

TCM2000

TCM3000

TCM4000

Aggregate Bin

ABM1600

ABM2400

ABM3200

ABM4800

ABM6400

Discharge Height (m)

4

4

4

4

4

Cycle Time (s)

60

60

60

60

60

Weighing
Accuracy
(%)

Aggregate

±2

±2

±2

±2

±2

Cement

±1

±1

±1

±1

±1

Water

±1

±1

±1

±1

±1

Additive

±1

±1

±1

±1

±1
Mobile ready mix concrete plant is more flexible to move and transport because its main components are mounted on a trailer. When you need to transport it to another site, it just need to spend you few hours.
We produce various of types and models of ready mix cement plant in order to meet the requirement of different customers. Therefore, no matter what type of project you have, you can pick up a satisfied ready mix batching plant from our Daswell Machinery.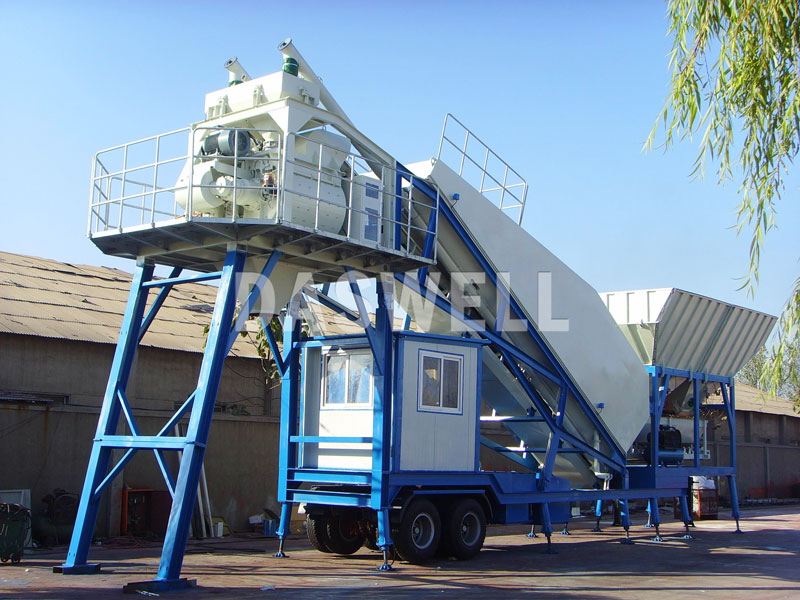 Model

MCBP25

MCBP35

MCBP50

MCBP75

MCBP100

Capacity (m3/h)

25

35

50

75

100

Concrete mixer

Model

TCM500

TCM750

TCM1000

TCM1500

TCM2000

Mixing power (kw)

18.5

30

18.5×2

30×2

37×2

Output per batch (m3)

0.5

0.75

1

1.5

2

Max. aggregate size

≤60/80

≤60/80

≤60/80

≤60/80

≤60/80

Aggregate bin (m3)

2×8

2×8

4×8

4×8

4×10

Walking speed (km/h)

20

20

20

20

20

Weighing accuracy

Aggregate

±2%

±2%

±2%

±2%

±2%

Cement

±1%

±1%

±1%

±1%

±1%

Water

±1%

±1%

±1%

±1%

±1%

Additive

±1%

±1%

±1%

±1%

±1%

Discharge height (m)

3.8

3.8

4.0

4.0

4.0

Total power (kw)

40

55

75

105

135
Advantages of daswell ready mix concrete plant
Excellent mixing performance. Our ready mix concrete plant for sale is equipped with twin shaft compulsory concrete mixer machine. This type of mixer has the features of evenly and thoroughly stirring and high mixing efficiency. Moreover, the lining plate and blade in the mixing cylinder are made of wear-resistant material, which ensures their wear-resistant and anti-impact capability.
Control system with high performance. Advanced control system will reduce the labor intensity and labor cost.
Accurate measurement system. Guarantee the weighing accuracy and mixing quality.
Reliable and stable performance. Adopting the international brand spare parts ensures the working life of ready mix plant for sale.
Perfect environmental protection performance.
Reasonable structure and layout. Reasonable layout of ready mix concrete plant machinerywill reduce your occupied area.
Humanized industrial design.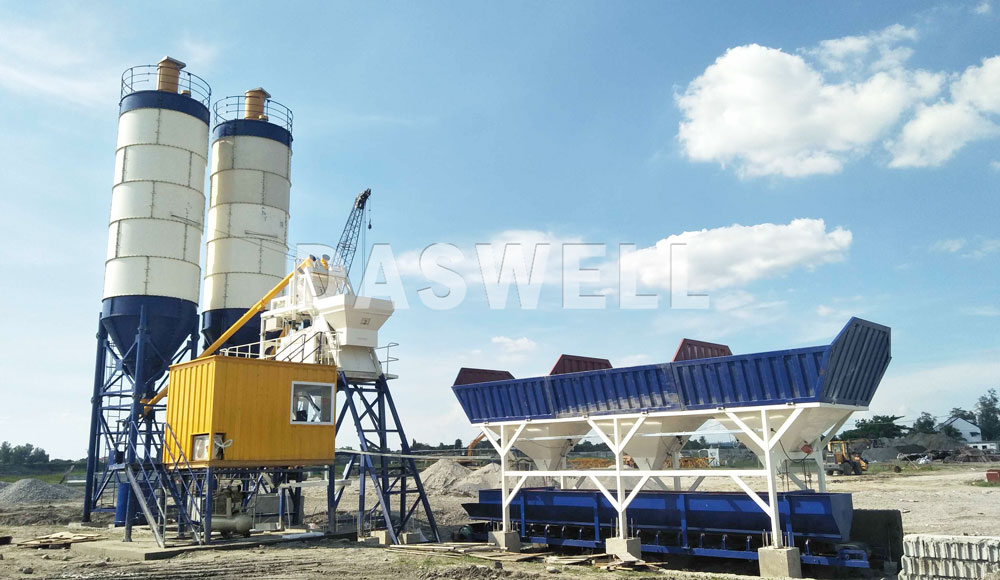 skip hopper type ready mix plant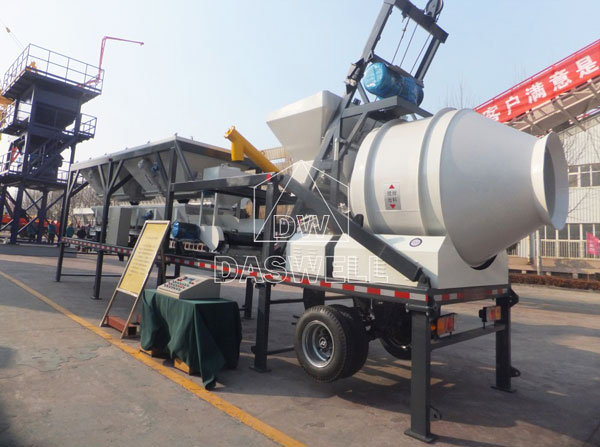 MCBP25A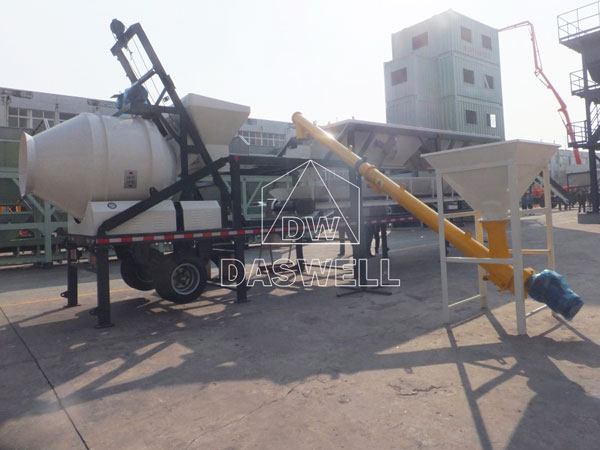 drum mix mobile type
Main systems of ready mix plant
Now, I will introduce the main components of ready mix concrete plant for sale. The ready mix batch plant for sale is mainly made of five systems, including weighing system, transportation system, storage system, mixing system and control system. Here is the detailed information.
Weighing system: Weighing system includes aggregate weighing, cement weighing, powder, water and additive weighing. Usually, we use the concrete batching machine to weigh the aggregate. According to the kinds of your materials, you can choose different number of bins.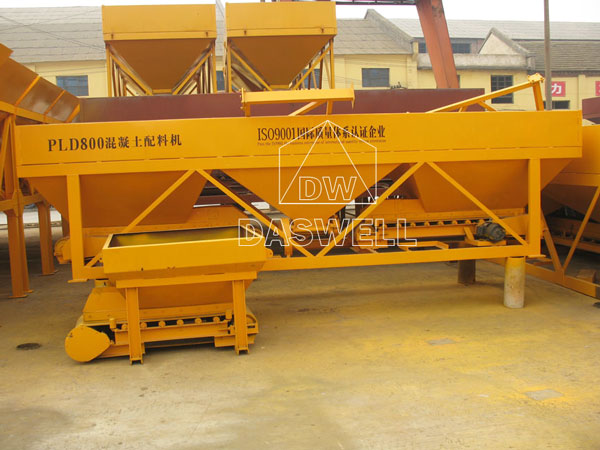 aggregate batching machine
Transportation system: Transport the weighed aggregate to the mixer machine by the belt conveyor. And transfer the cement to the concrete mixer machine by the screw conveyor.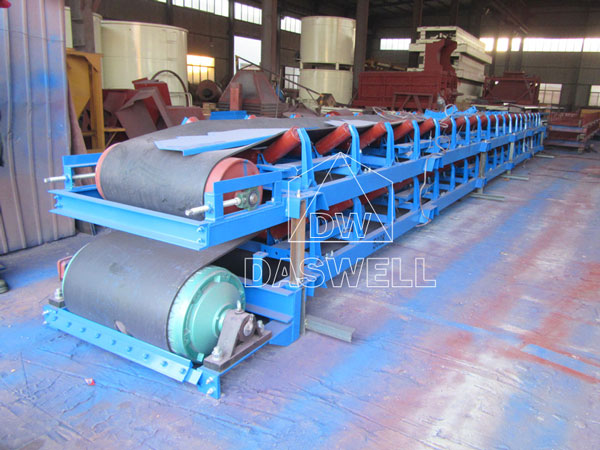 belt conveyor
Storage system: Storage system mainly refers to the cement silo that is used to store the cement. Cement silo includes three different types, bolted type, welded type and horizontal type.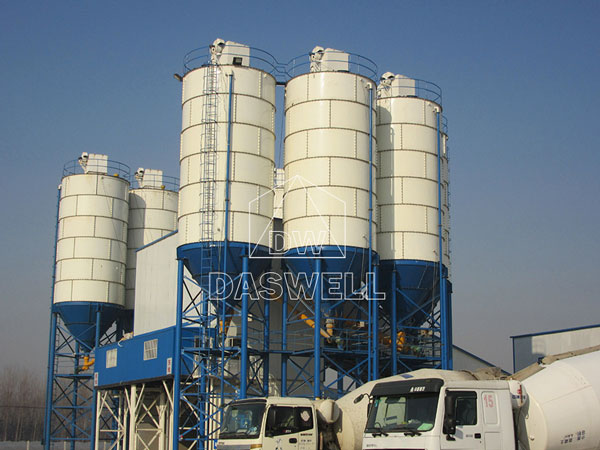 cement silo
Mixing system: Mixing system is the concrete mixer machine. It is used to mix the different materials, such as, aggregate, water, powder, cement and additive. Good mixer machine will ensure the quality of finished concrete, even the quality of whole projects.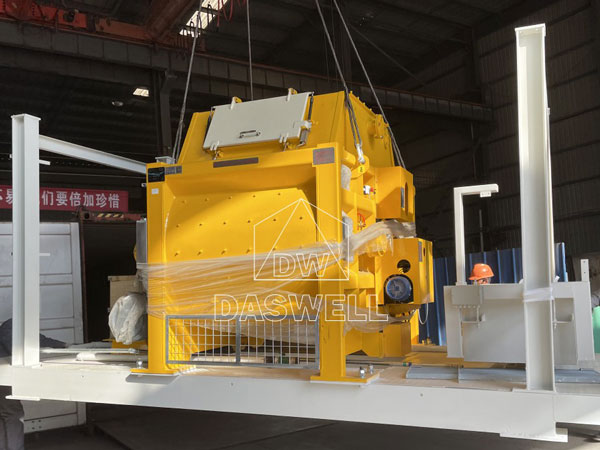 twin shaft mixer
Control system: Our control system of ready mix concrete cement plant can be divided into fully automatic type and semi automatic type. Choose a more right control system.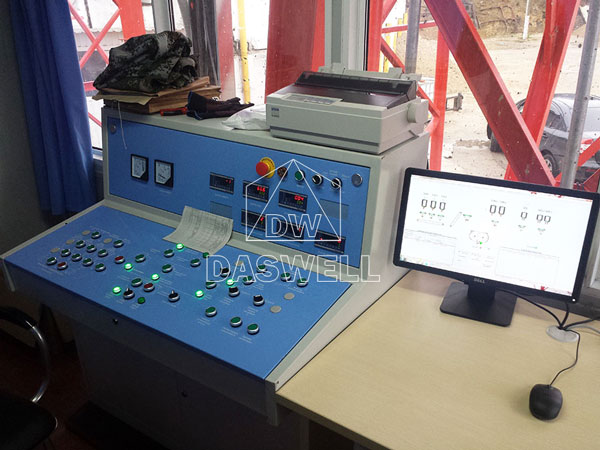 control system
Successful cases for your reference
Successful cases and good reviews from customers are the good basis for you to judge whether a manufacturer is reputable and credible or not. When you choose a manufacturer, you can visit their factory or watch their ready mix concrete plant for sale in local area. In addition, you also can listen to the comments of their customers.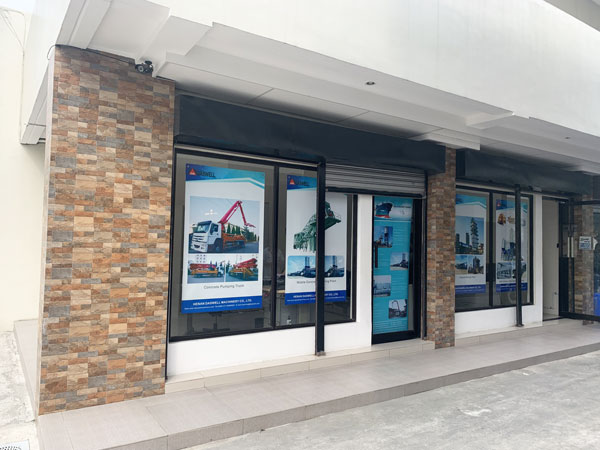 Daswell Philippines office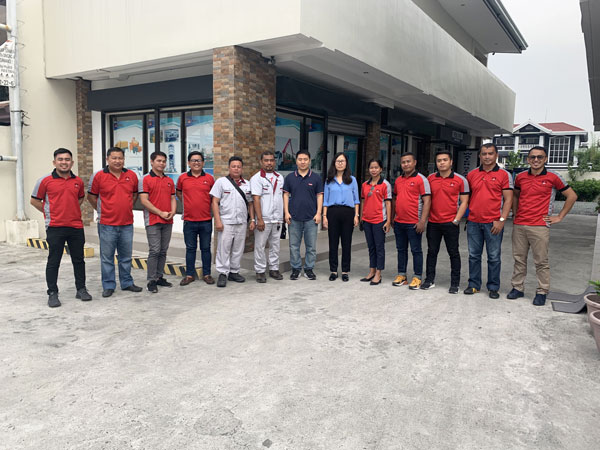 Daswell Philippines team
Our Daswell Machinery, as a supplier dedicated to ready mixed concrete plant production, has exported many different models of products to all over the world. At present, our ready mix concrete plants have worked for different customers from different countries, such as, Philippines, Pakistan, Indonesia, Sri Lanka, Kenya, Thailand, Malaysia, Mexico, Peru, South Africa, Egypt, etc. In Philippines, our ready-mixed concrete plants are hot sale equipment.
Install CBP25 In Philippines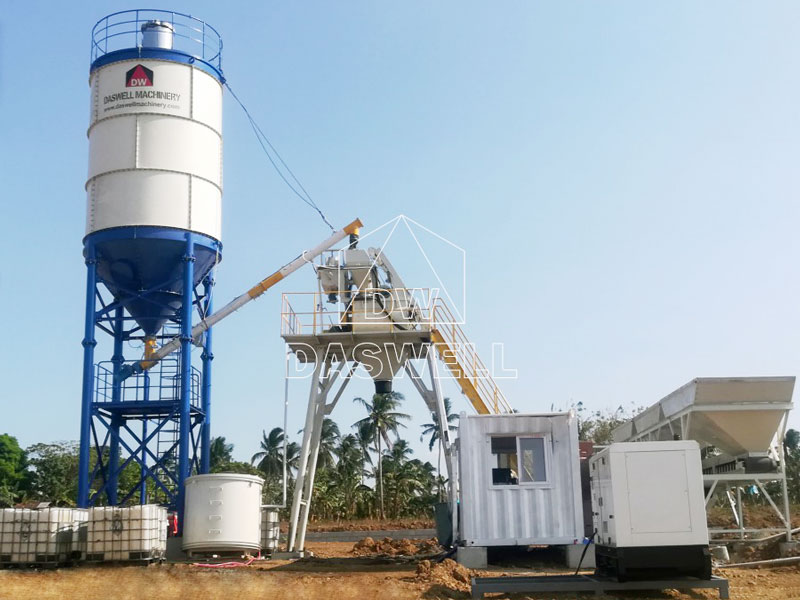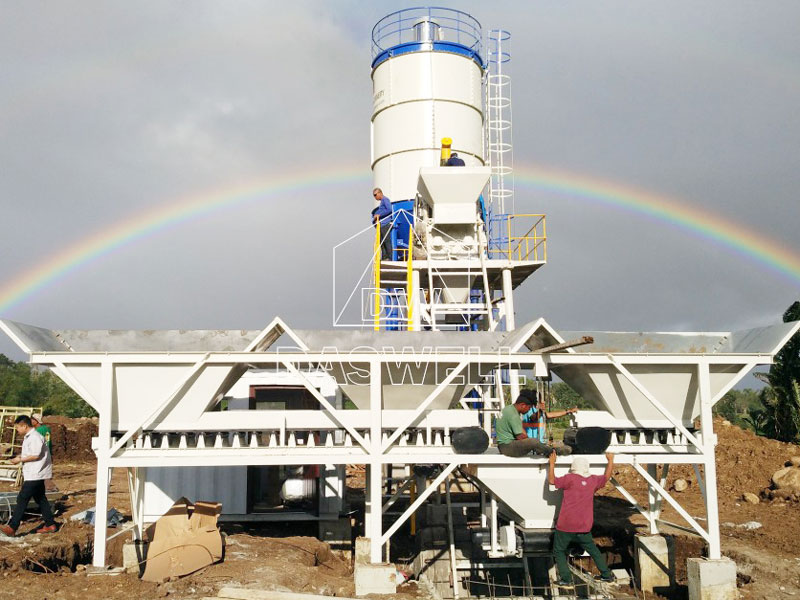 CBP90 Plant in Ecuador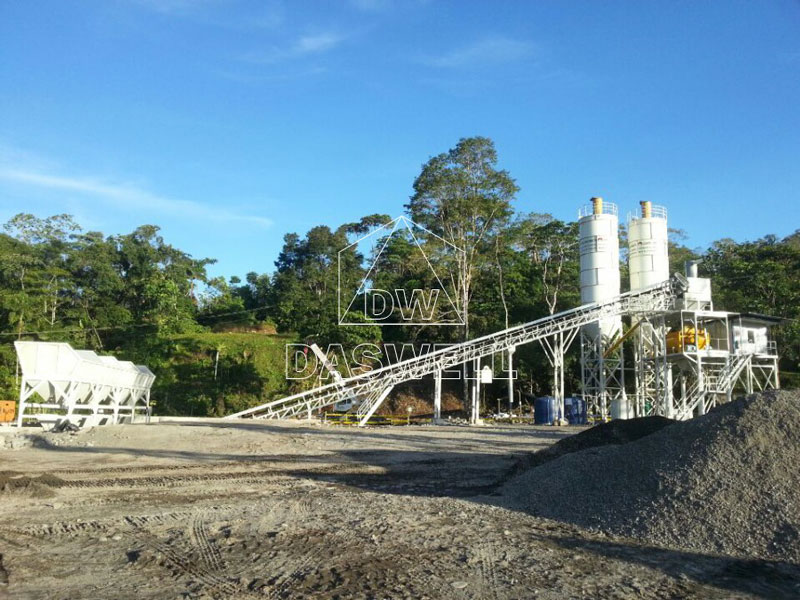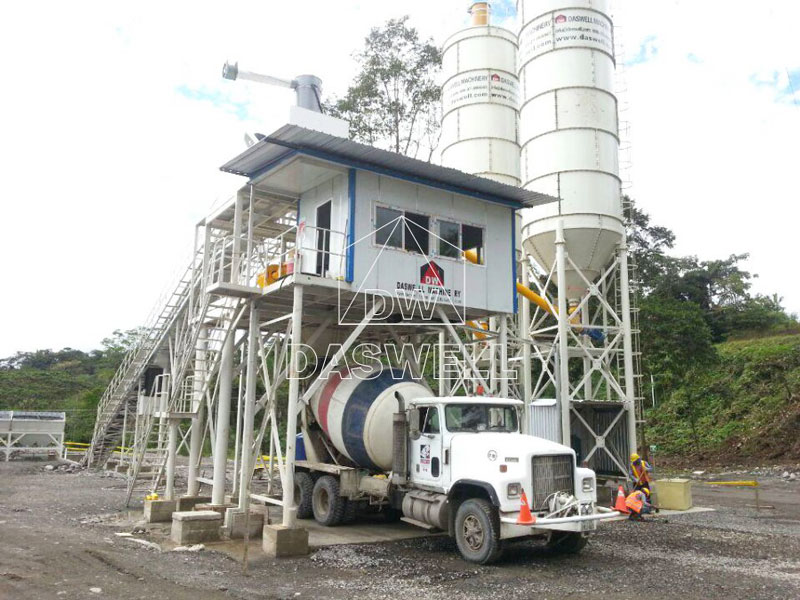 MCBP25 Mobile Plant