Cement silo for sale philippines is suitable for storing cement, fly ash and other bulk building materials. Usually, it is an important part for a concrete batching plant. Because the body of the cement silo is equipped with material level system, it can show the position and how much of the materials. It can work with the screw conveyor, which can transport the materials to the designated location. According to its capacity, our cement silo for sale includes 50t, 80t, 100 ton silo, 150t, 200t, 300t, 500t, even 2000t. Moreover, we can customize the different discharge height for different customers. Interested? Welcome to inquiry now!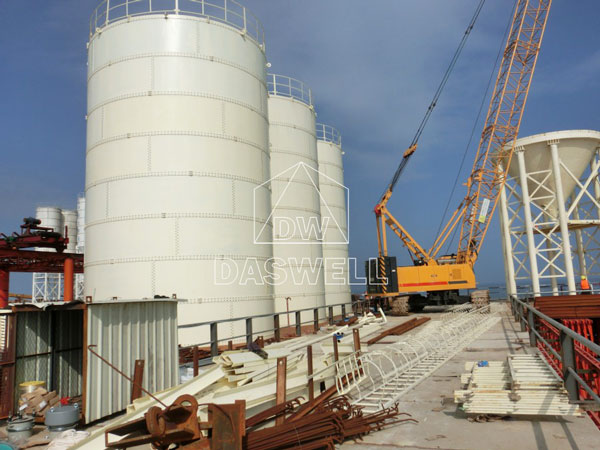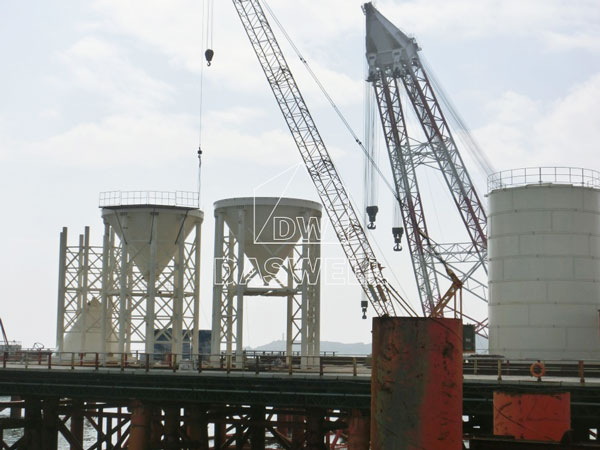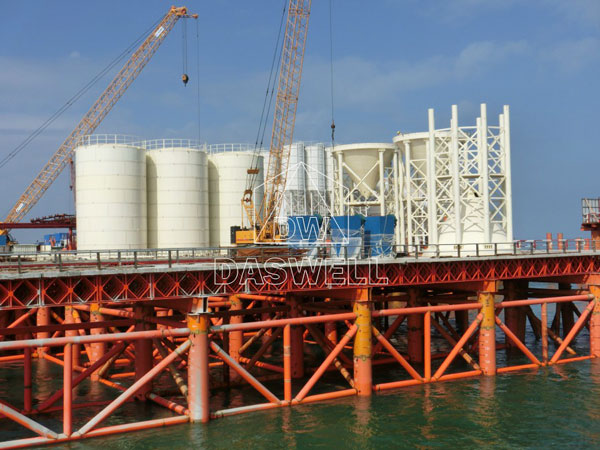 large size bolted silo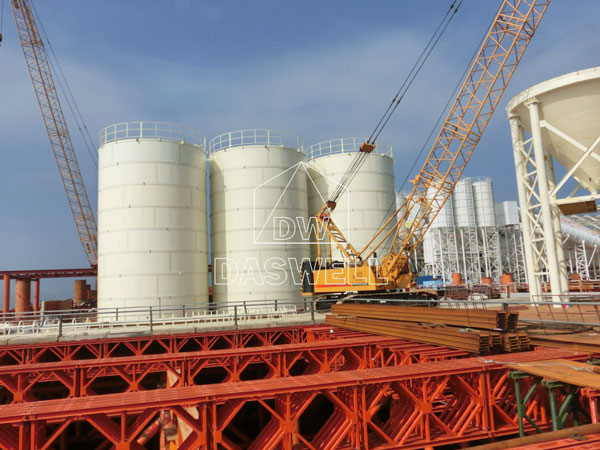 300ton silo
Types of cement silos
In general, the cement storage silo can be divided into three types, bolted silo, welded silo and horizontal silo. You can select a suitable type according to their features and transport requirement. As its name implied, the body of bolted silo is divided into pieces. After transporting it to the customer's site, workers are required to assemble the silo piece by piece with bolts. One of the advantages of bolted silo is that it is easy to transport. So customers don't need to worry much about packing. According to our experience, large size cement silos are generally bolted type.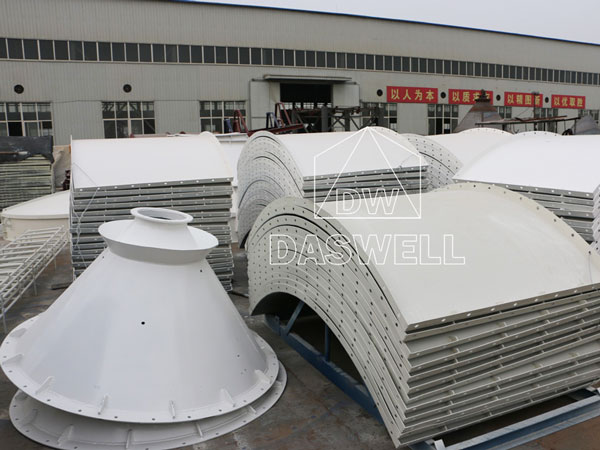 bolted cement silo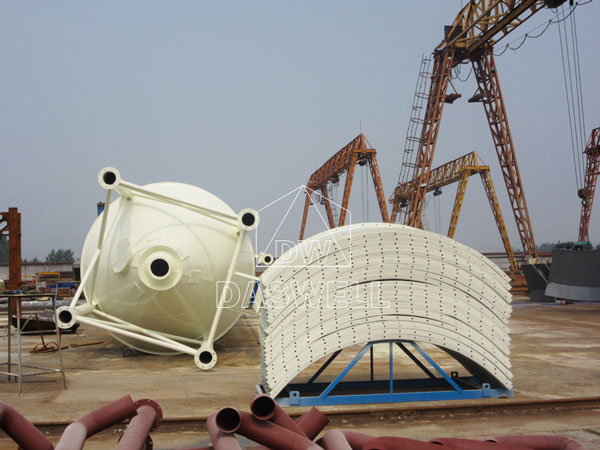 bolted silo in factory
Different from bolted silo, after customers receive the welded silo, they don't have to assemble it. All they have to do is make a concrete foundation for the legs of the cement bin, then erect the bin vertically and weld the bottom to the concrete foundation, and put it into use. This will reduce the time required for the customer to assemble the silo in cement industry.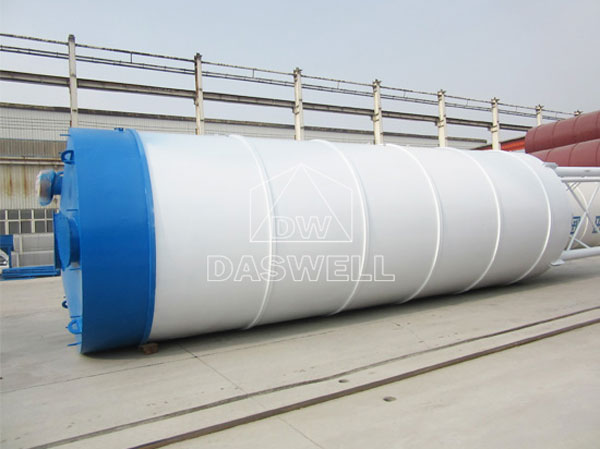 welded cement silo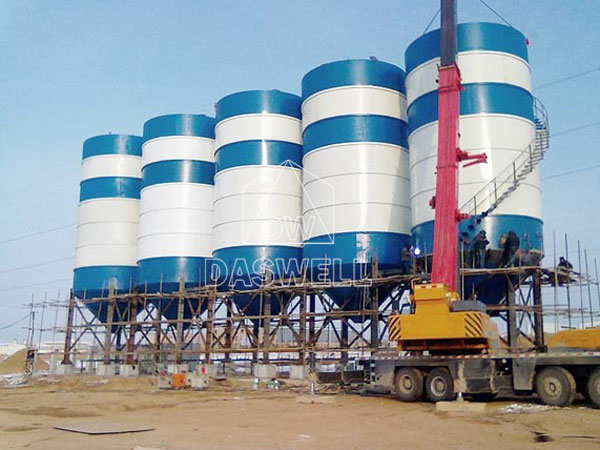 its application
Characteristics of horizontal cement silo for sale philippines: Easy to use without installation; The height is reduced and it can be placed inside the production workshop. It is also convenient to transport.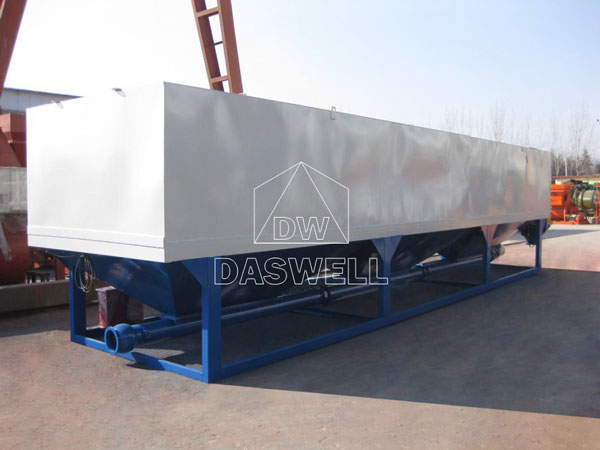 horizontal cement silo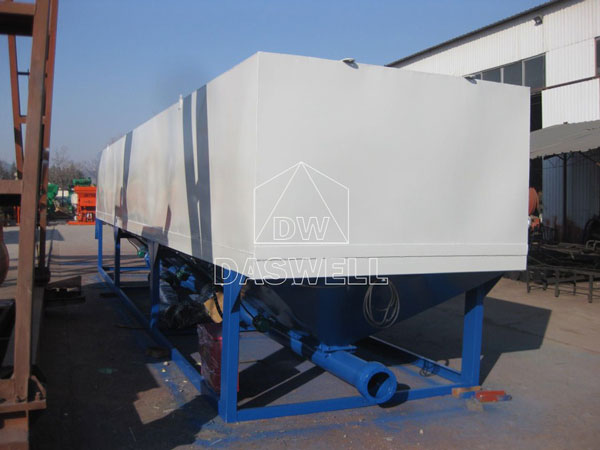 daswell silo machine
Advantages of Daswell cement silo
Good sealing structure, high temperature resistance. Our company's cement storage silos use special sealing strips, which can withstand high temperature up to 200 degrees. After the sealing strip is compacted, the raw material is first injected into the silo, and the dust will automatically drill into the small gap to achieve a perfect self-sealing effect.
Short production cycle, quick installation. The cement bin as a whole is made of steel plate, which greatly reduces the cement silo cost. And because the structure is simple, the production cycle is short. Quick installation can save the construction time.
Small occupied area and light weight. The height and diameter of the cement silo in batching plant can be selected from a wide range, while the space between the silo body is small, which can achieve the effect of full use of space.
Easy maintenance and long service life. Our Daswell will provide operating instructions for routine maintenance. As long as you maintain your cement silos for sale regularly, you can use it for the long time.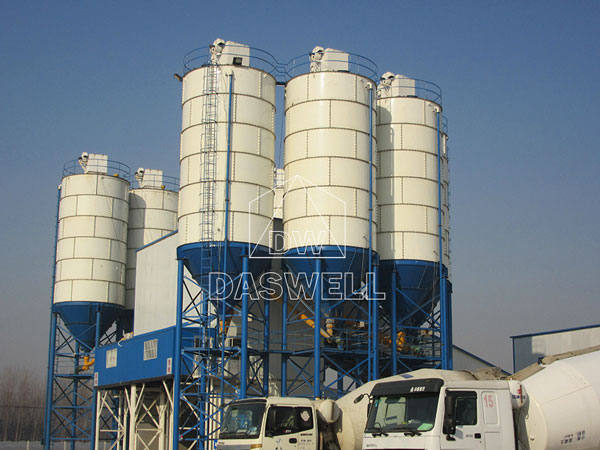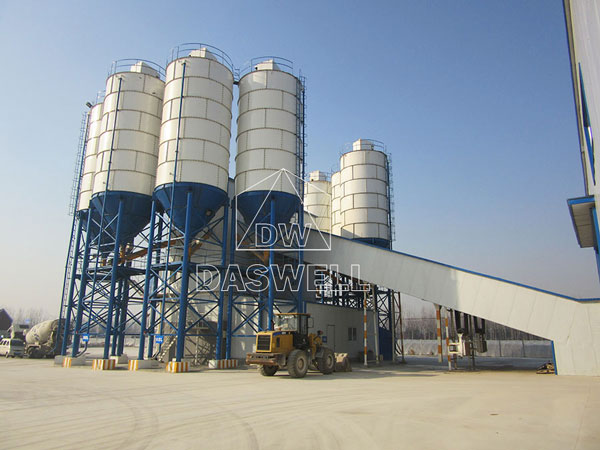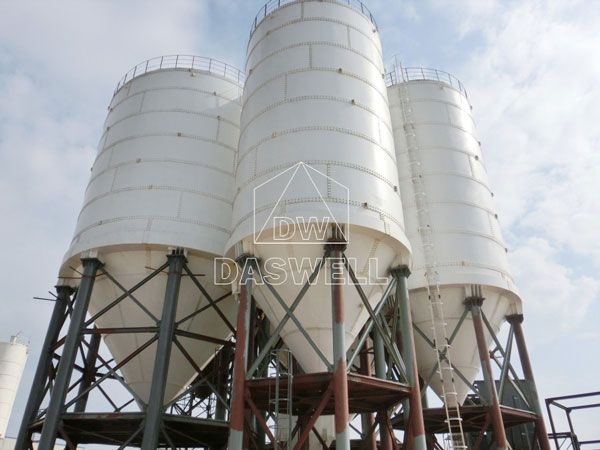 the bolted silo in batching plant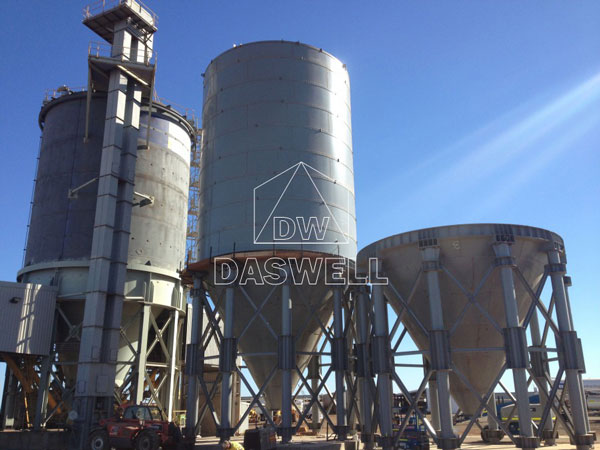 wide application
Capacity(t)
Diameter(mm)
Discharge Height(m)
50
3260
Customized
70
3260
80
3260
100
3260
150
3600
200
4500
300
5050
400
5500
500
6600
800
8000
1000
8000
1500
10000
2000
12000
Components of cement storage silo
The components of silo cement mixer include silo, ladder, guardrail, feeding pipe, dust collector, material level gauge, discharge valve, etc. Next, I will focus on the dust removal system, arch breaking device, and material level device.
Dust removal system: An electric dust removal device is installed on the top of the cement silo in concrete batching plant, which can effectively absorb the suspended particles in the silo and reduce the pollution to the surrounding environment.
Arch breaking device: Arch breaking device is to use solenoid reversing valve to control the release of compressed air to break cement and various powder materials, to avoid powder accumulation, causing blockage.
Material level device: The material level meter is equipped with a limit switch in the upper and lower parts of the cement storage silo. The switch can sense the storage height of the material in the tank, and react the storage situation of cement or other materials in the cement bin timely and accurately through the electrical signal.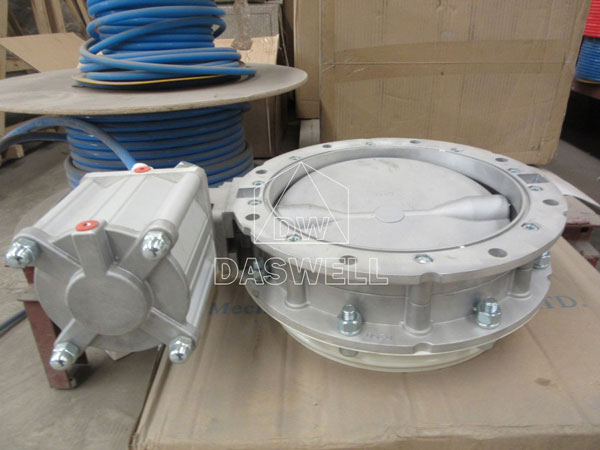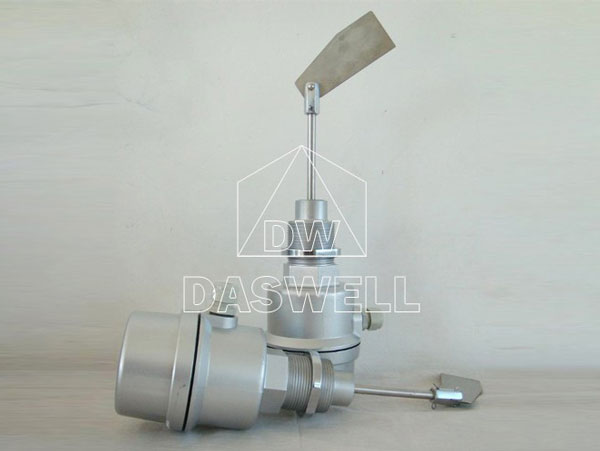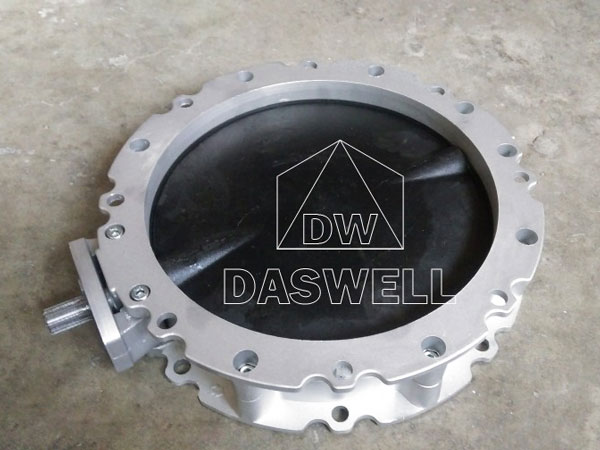 components of cement silo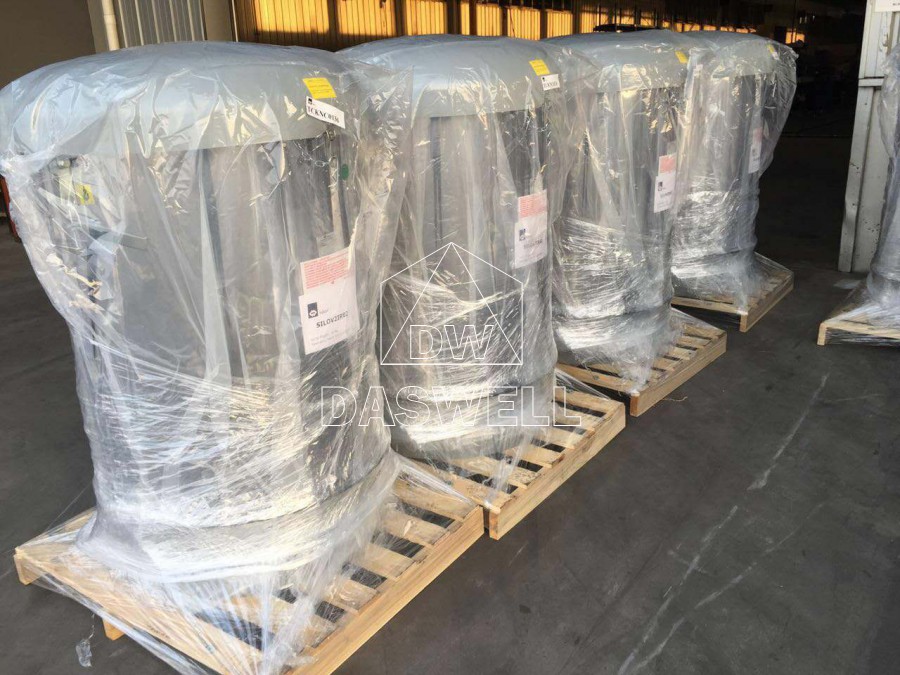 its spare parts
Capacity(t)
Diameter(mm)
Discharge Height(m)
50
3260
Customized
70
3260
80
3260
100
3260
150
3600
200
4500
300
5050
400
5500
500
6600
800
8000
1000
8000
1500
10000
2000
12000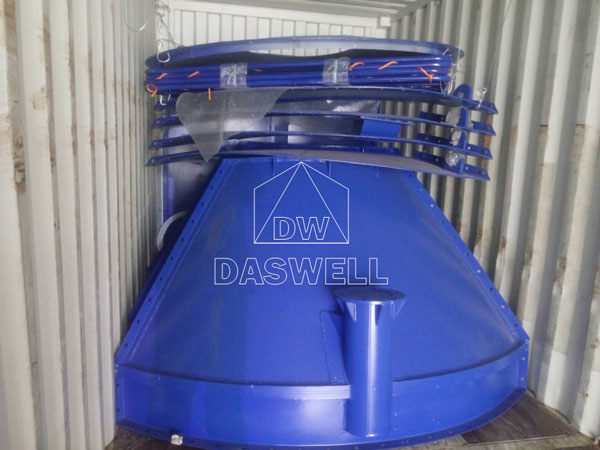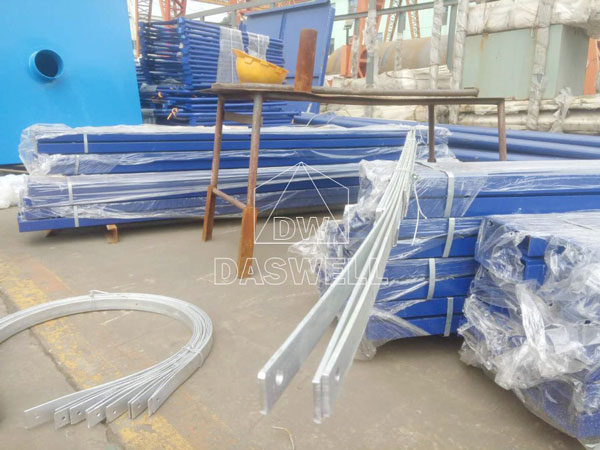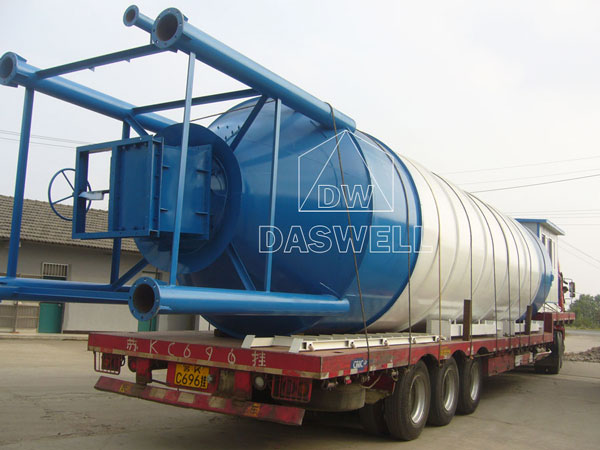 transport the cement silo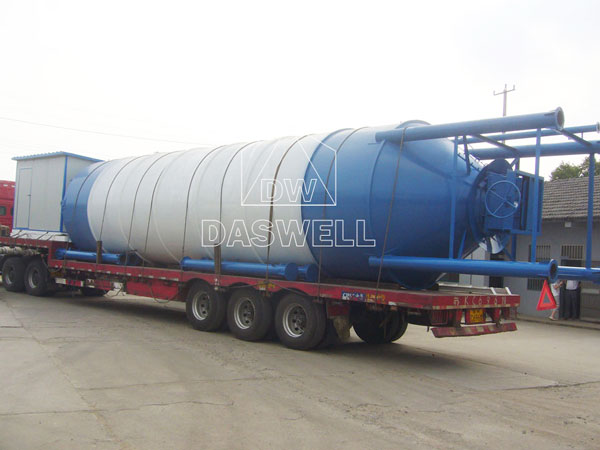 transport to Philippines
How to transport and install this silo
For some large cement silo for sale philippines or bolted silo, before transporting, you need to disassemble it firstly. And then reinstall it at the construction site. It should be noted that the removal of silo in cement industry requires professional technical personnel to operate, or under the guidance of professional personnel. In addition, in order to reduce the damage to the cement silo for sale and its accessories during transportation, it is necessary to pack some core components. When you install a cement storage silo, you should follow the following sequence: leg, ring beam, funnel, silo, feed pipe, etc. Meanwhile, during the installation, pay attention to the following aspects: Be careful not to tilt the silo and deform the leg; Take precautions against wind and lightning; The base must be firm. Get more information by contacting us!
In summary, if you plan to purchase a cement silo for sale philippines, welcome to choose our Daswell Machinery! We promise to provide you with better quality machine and service in Philippines! After receiving your message, we will reply you in 24 hours.