Concrete batching plant philippines plays an important role on the construction industry, such as, building construction, bridge construction, road construction and so on. So when you plan to purchase a batching plant concrete, choosing a right type and model is very crucial.
Our Daswell Machinery is a professional concrete batching plant manufacturer in philippines accumulating many years production and sales experience. We can provide our customers with various of batch mix plants, including CBP series stationary type plant, MCBP series mobile concrete batching plant, small size concrete batch plant, etc. If you don't know how to get the best suitable one, there are some useful tips for you.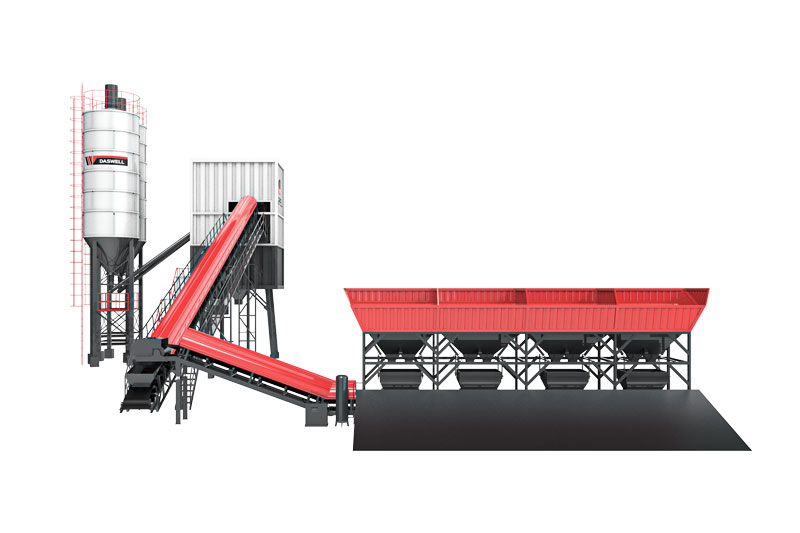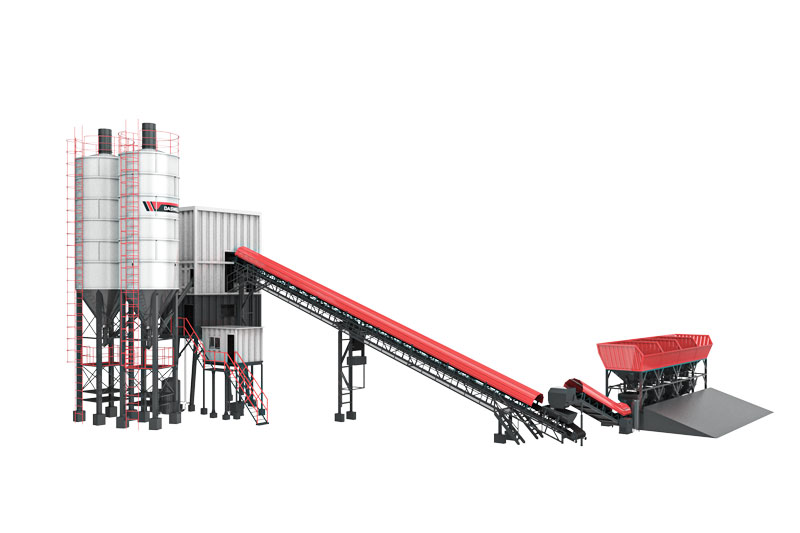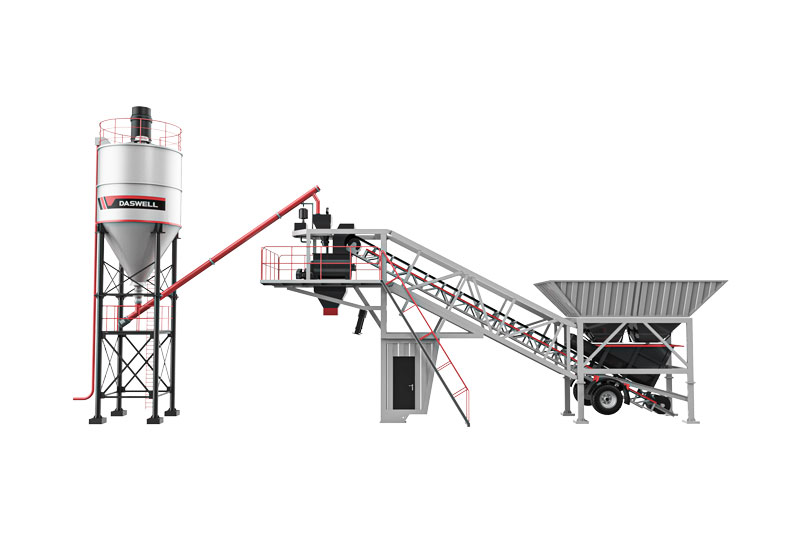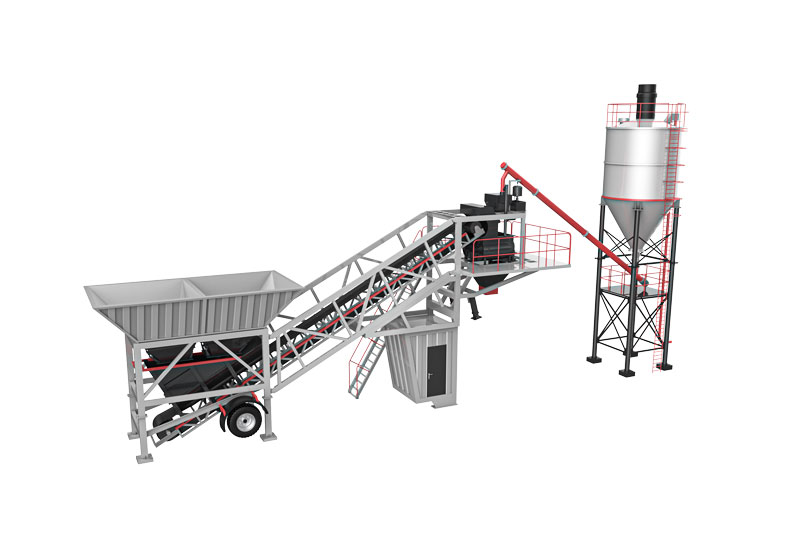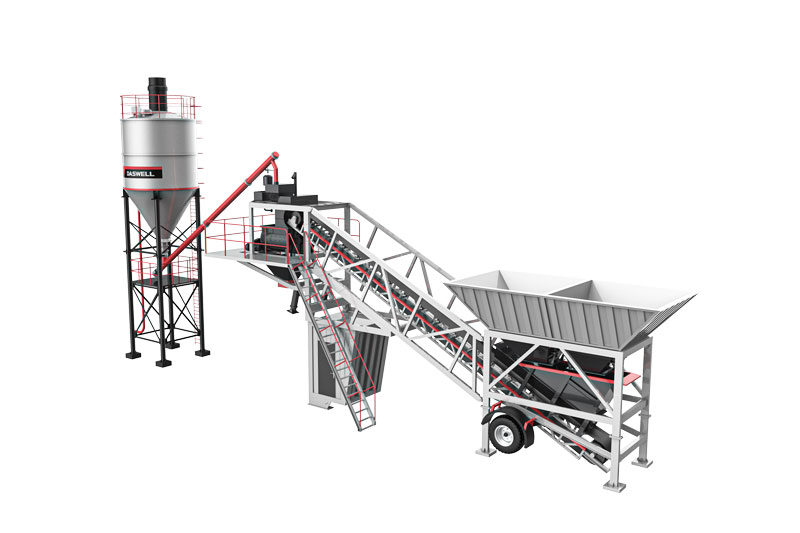 Types: Stationary type & Mobile type
Models: CBP series & MCBP series
Capacity: 25m3/h - 240m3/h
Components: Twin shaft concrete mixer, Aggregate batching machine, Cement silo, Control system, etc
Choose the suitable production capacity
As we all know, the batching and mixing plant is widely used in the construction industry due to its various advantages. However, buying a batching plant equipment can be challenging as there are a number of options available today in terms of features as well we configurations. Experts recommend focusing on its production capacity and quality in order to get the most value for your money. Don't focus only on price or attractive payment options given by the manufacturer.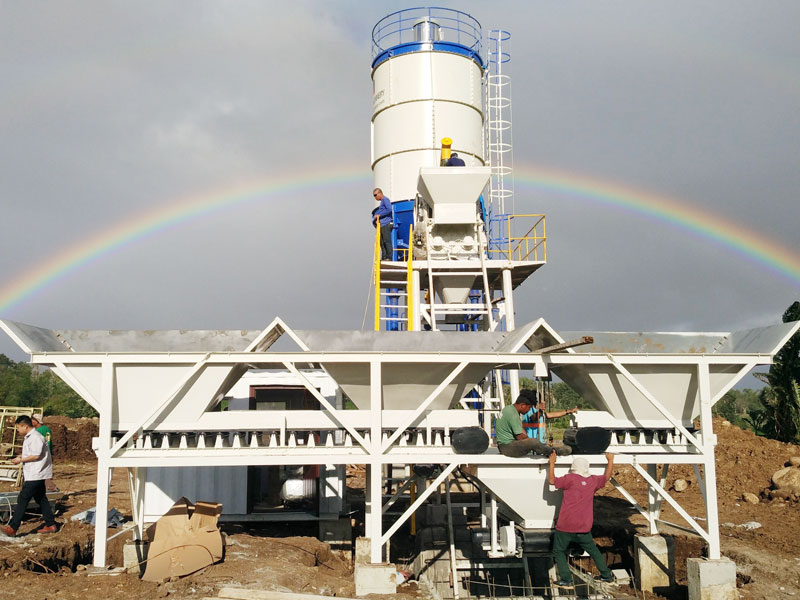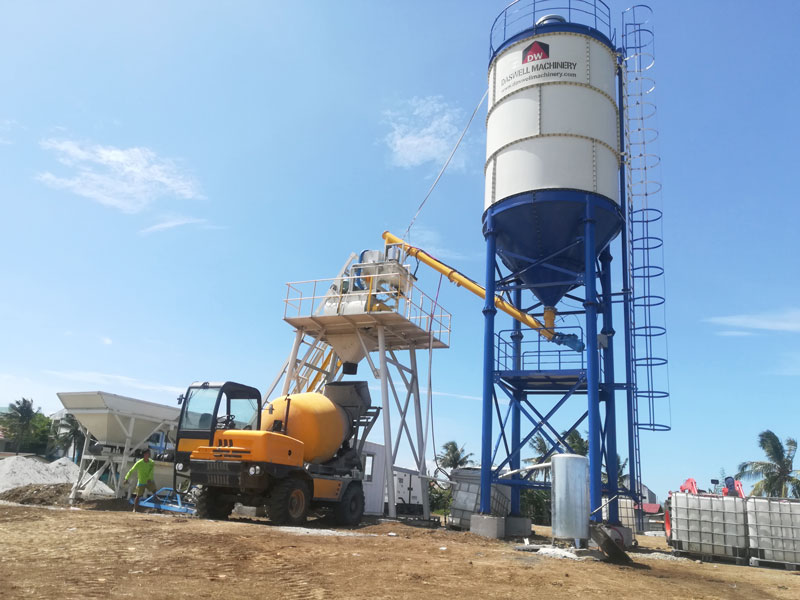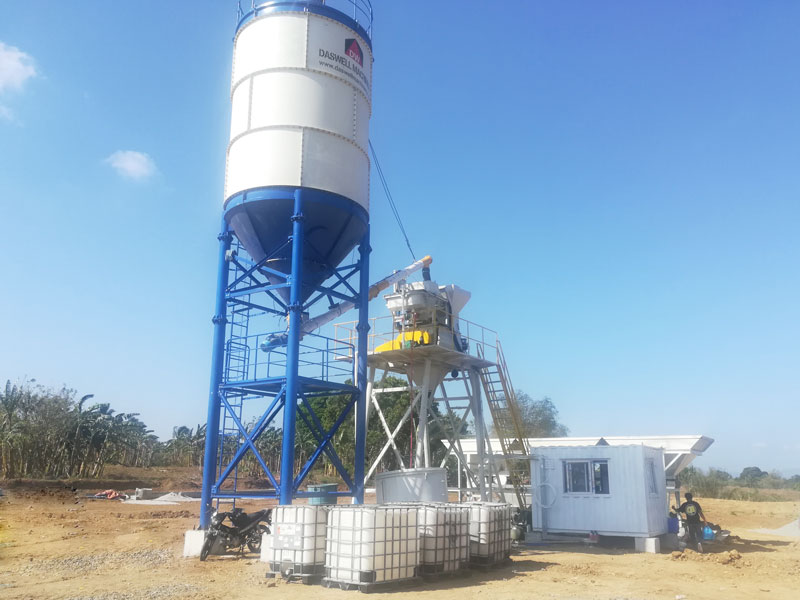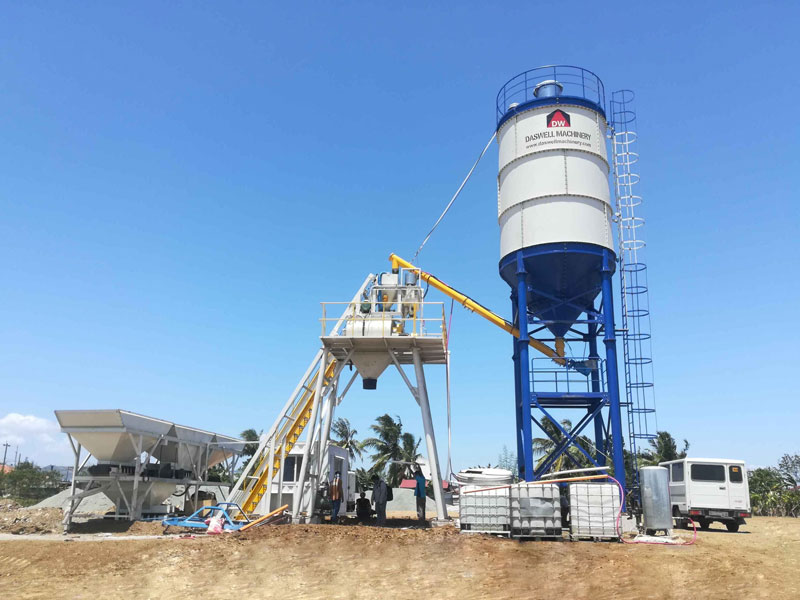 Model
CBP25
Capacity (m3/h)
25
Mixer
TCM500
Aggregate Bin
ABM800
Discharge Height (m)
3.8
Cycle Time (s)
72
Weighing Accuracy(%)
Aggregate: ±2
Cement: ±1
Water: ±1
Additive: ±1
In order to buy a batching plant machine with the right capacity, you first need to determine your own requirements in the long run. If you regularly undertake projects that do not require large amount of concrete, it would be a waste of money to buy a batching plant with huge capacity. Therefore, first determine your requirements and only then you should start researching plants with the desired capacity.
The production capacity of our Daswell concrete batching plant philippines can range from 25m3/h to 240m3/h. So whether your project is small or large, you can pick up the right batching plant philippines from our company. In addition to capacity, you will also need to focus on the number of hours you want the batching plant for sale philippines run.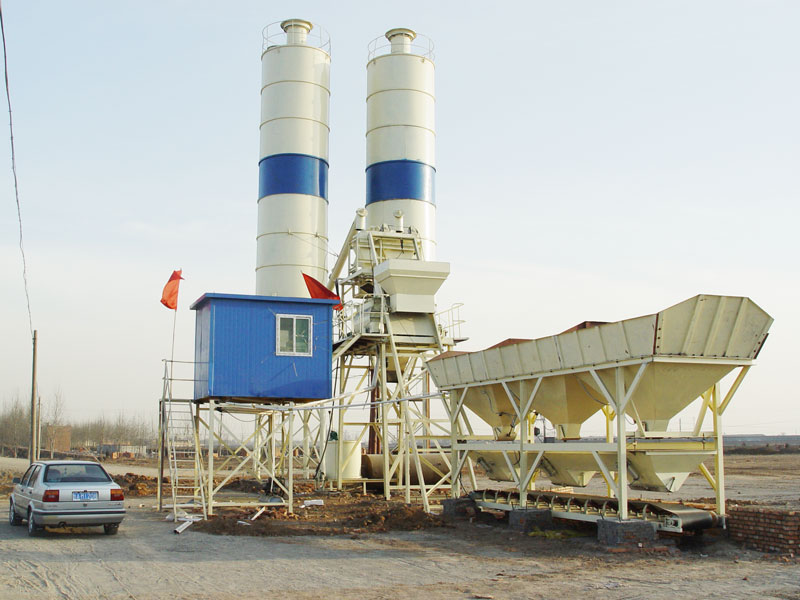 Model
CBP50
Capacity (m3/h)
50
Mixer
TCM1000
Aggregate Bin
ABM1600
Discharge Height (m)
3.8
Cycle Time (s)
72
Weighing Accuracy(%)
Aggregate: ±2
Cement: ±1
Water: ±1
Additive: ±1
Focus on the type of concrete mixer
Concrete batching plant for sale philippines is available with a wide variety of mixers such as drum mixer, twin shaft concrete mixer, single shaft mixer, planetary concrete mixer and so on. Each of these types has its own advantages. The choice will depend on your particular requirements.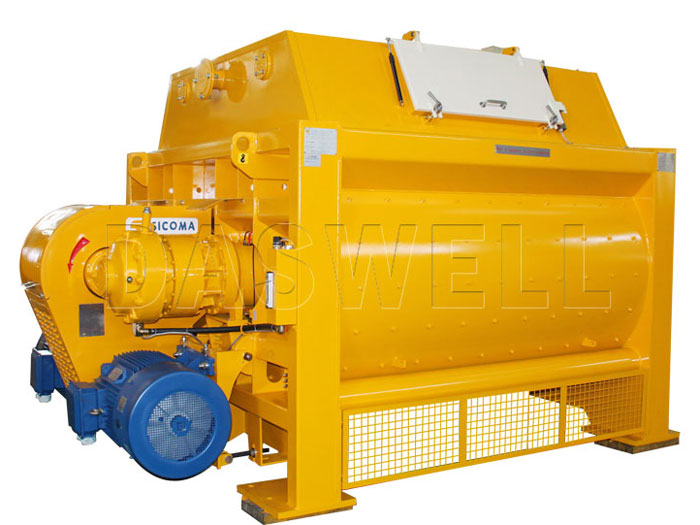 twin shaft mixer
In usually, our concrete batching plants for philippines are equipped with the twin shaft concrete mixer machine. That is because the twin shaft concrete mixer has the features of evenly stir, high mixing quality and high production volume.
Of course, some of our customers also want to choose the planetary concrete mixer. Although our concrete batching plant has the specific model and configuration, we also can customize one for you according to your extra requirements.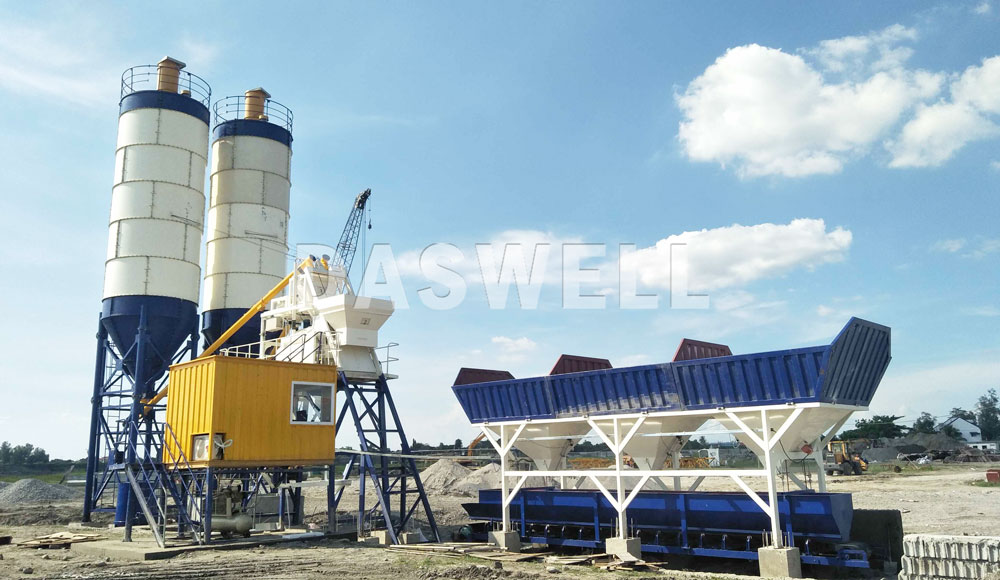 Model

CBP25

CBP35

CBP50

CBP75

Capacity (m³/h)

25

35

50

75

Mixer

TCM500

TCM750

TCM1000

TCM1500

Aggregate Bin

ABM800

ABM1200

ABM1600

ABM2400

Discharge Height (m)

3.8

3.8

3.8

3.8

Cycle Time (s)

72

72

72

72

Weighing
Accuracy
(%)

Aggregate

±2

±2

±2

±2

Cement

±1

±1

±1

±1

Water

±1

±1

±1

±1

Additive

±1

±1

±1

±1
Consider the aggregate storage capacity
In a concrete batching plant philippines, you will need to store all the materials on-site in order to prepare the required type of concrete mixer. Therefore, you need to pay special attention to the aggregate storage capacity which depends on the design of the plant.
The material storage mainly includes the aggregate storage and cement storage. Our mobile concrete batching plant philippines adopts the cement silo to store cement. You can choose the different capacity, 50t, 100t, 200t, 300t, 500t, etc.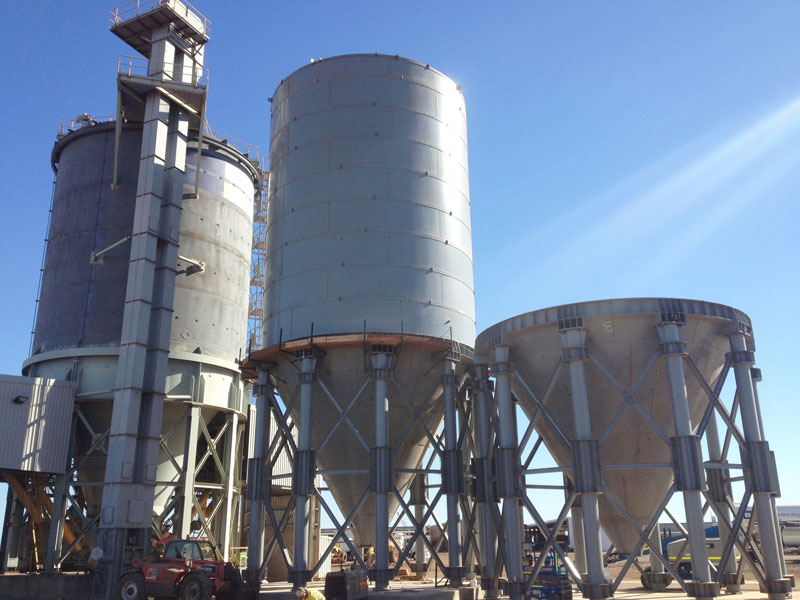 bolted cement silo
The aggregate batching machine is used to measure the aggregates. We have two bins, three bins, four bins, etc specification for your reference. Select the suitable batching plant components for your plant.
Although different models of concrete batching and mixing plants have standardized configurations, we can also provide you with customized services according to your requirements.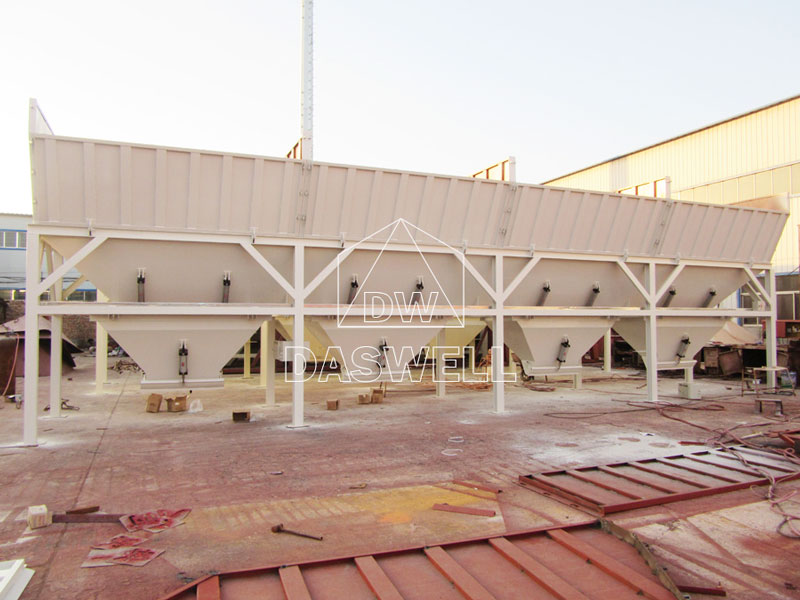 aggregate batching machine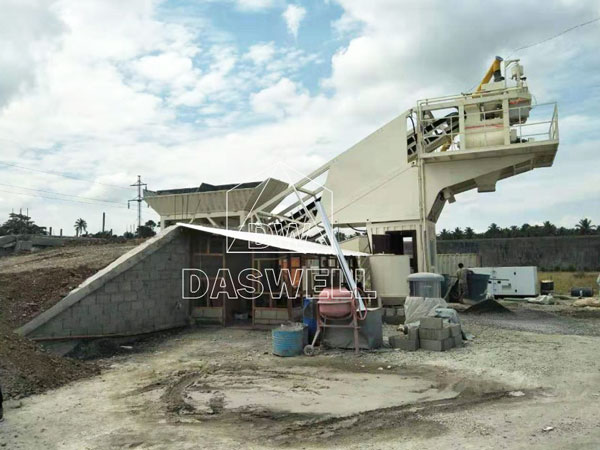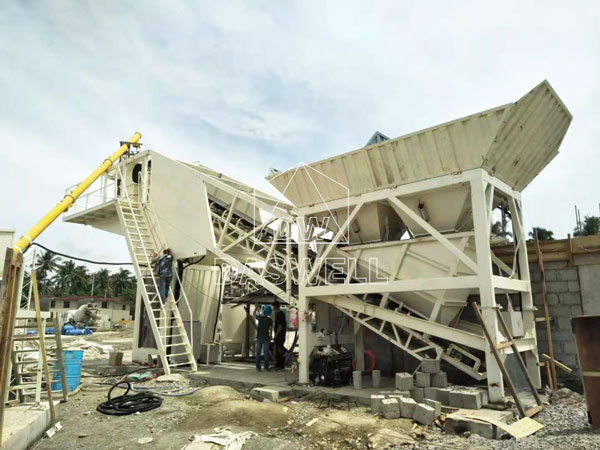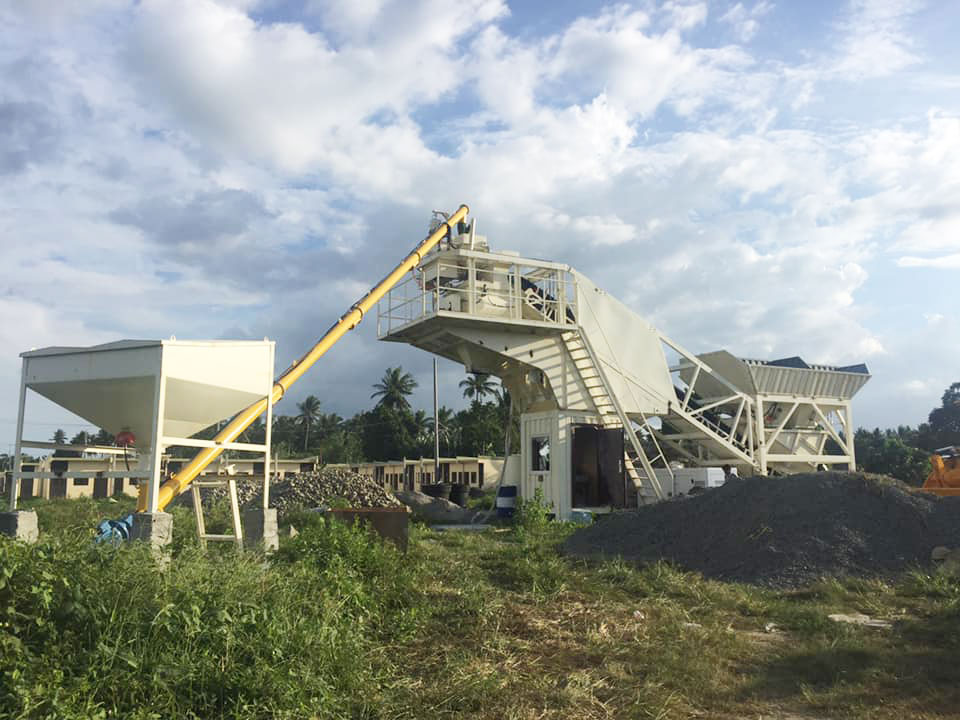 Model

MCBP25

MCBP35

MCBP50

MCBP75

MCBP100

Capacity (m3/h)

25

35

50

75

100

Concrete mixer

Model

TCM500

TCM750

TCM1000

TCM1500

TCM2000

Mixing power (kw)

18.5

30

18.5×2

30×2

37×2

Output per batch (m3)

0.5

0.75

1

1.5

2

Max. aggregate size

≤60/80

≤60/80

≤60/80

≤60/80

≤60/80

Aggregate bin (m3)

2×8

2×8

4×8

4×8

4×10

Walking speed (km/h)

20

20

20

20

20

Weighing accuracy

Aggregate

±2%

±2%

±2%

±2%

±2%

Cement

±1%

±1%

±1%

±1%

±1%

Water

±1%

±1%

±1%

±1%

±1%

Additive

±1%

±1%

±1%

±1%

±1%

Discharge height (m)

3.8

3.8

4.0

4.0

4.0

Total power (kw)

40

55

75

105

135
Pay more attention to the after-sale service
After-sale service is one of the most overlooked aspects of buying a batching plant in the philippines. Since there are a number of moving components in a concrete batching plant for sale in the philippines, you will continuously need affordable spare parts in order to keep the plant running. You can't afford to shut down the plant due to unavailability of some important components.
Professional concrete batching plant manufacturers philippines ensure continuous supply of affordable spare parts to make sure that their customers do not suffer due to lack of spare parts.
If you choose our Daswell Machinery, our after-sale service team will provide you with the following services: installation and debugging service; training operators service; maintenance and repairment service; regular visit, etc.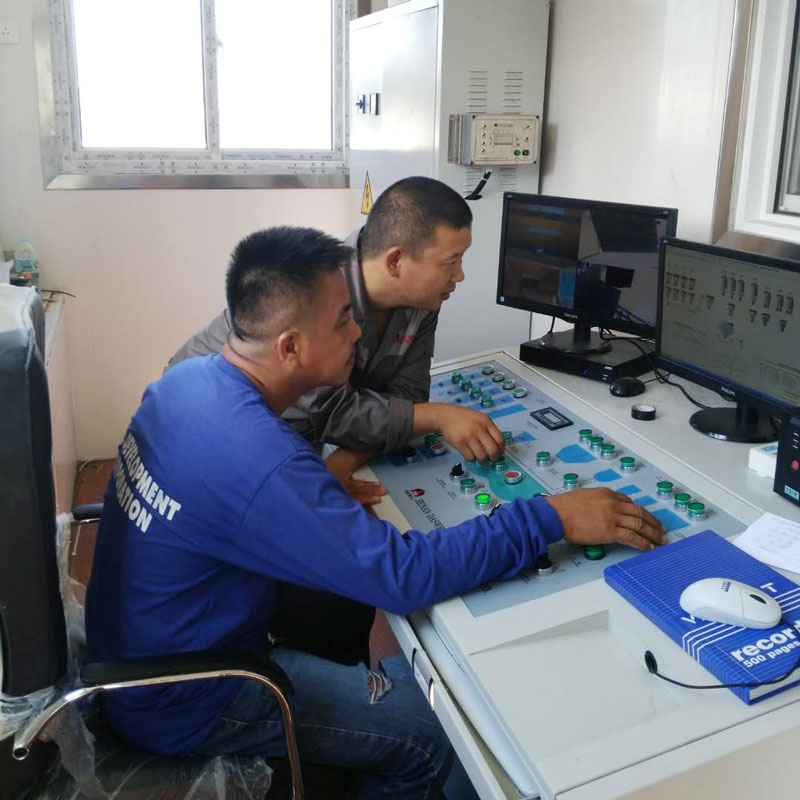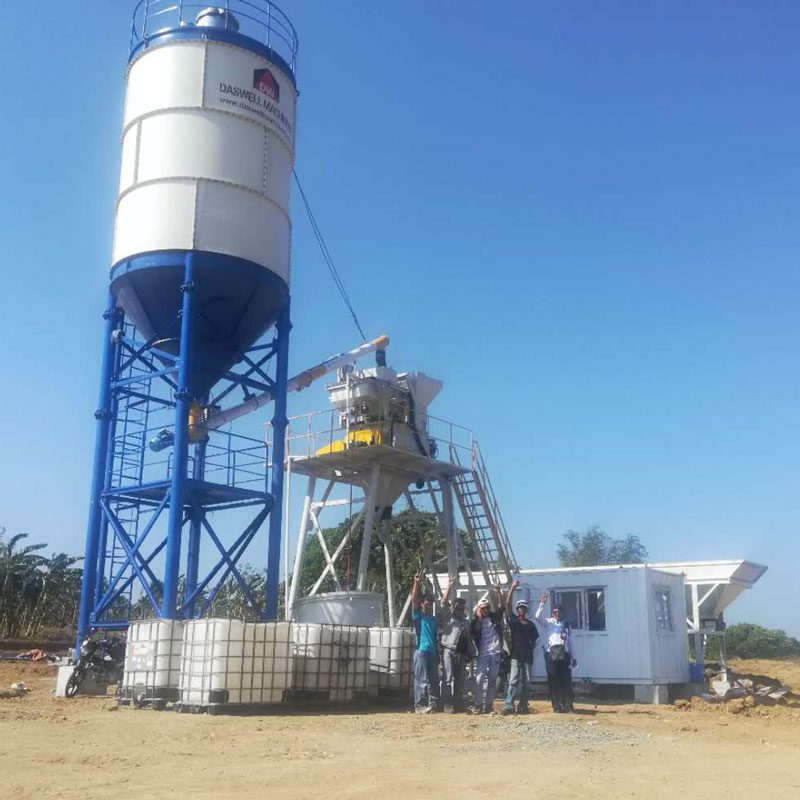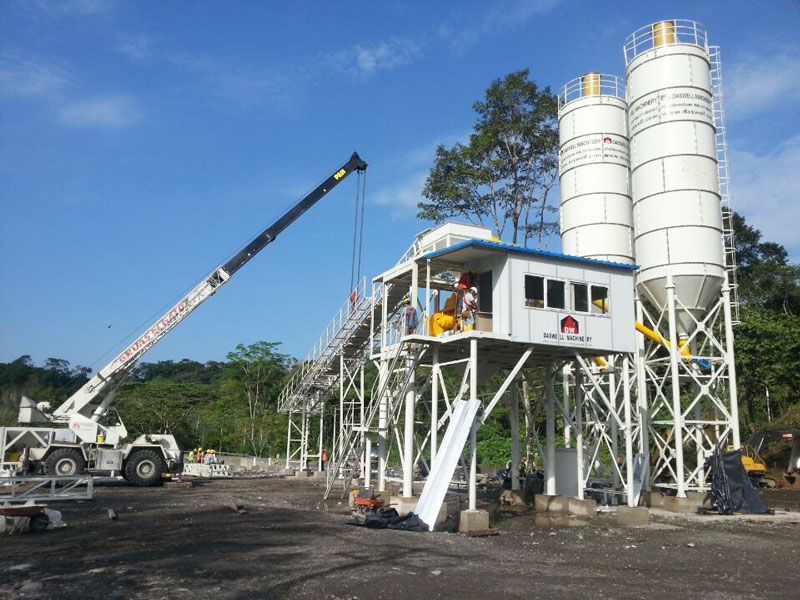 CBP90 belt conveyor type
Model
CBP90
Capacity (m3/h)
90
Mixer
TCM1500
Aggregate Bin
ABM2400
Discharge Height (m)
4
Cycle Time (s)
60
Weighing Accuracy(%)
Aggregate: ±2
Cement: ±1
Water: ±1
Additive: ±1
How does a concrete batch plant work?
The working principle of a concrete batching plant philippines is very simple.
First of all, the aggregate batching machine weighs the materials according to a set proportion.
Then transport these weighed aggregates to the mixer machine or waiting hopper. At the same time, the cement weighing system, water weighing system and additive weighing system all weigh different materials and transfer to mixer machine.
Next, the concrete mixer machine will stir these materials evenly and thoroughly.
At last, the concrete mixer truck will take the finished cconcrete from the discharge port. And then transport the finished concrete to the construction site.
Wanna to know more information about the concrete batching plants in the philippines? Welcome to contact us now!
Concrete batching plant suppliers in Philippines
I know that there are a lot of batching equipment manufacturers in Philippines. When you select one from these manufacturers, you should learn their strengths and then make your choice. Let me introduce about our Daswell Machinery briefly.
The parent company of Daswell Machinery is located in China. In recent years, with the development of Philippines market, we have set up our branch office and warehouse in Philippines in order to service our customers better. Some of our engineers and salesmen work there all the time. So when you meet some problems, our engineers can help you solve it quickly. If you are convenient, we are glad that you can have a visit to our office to learn our products.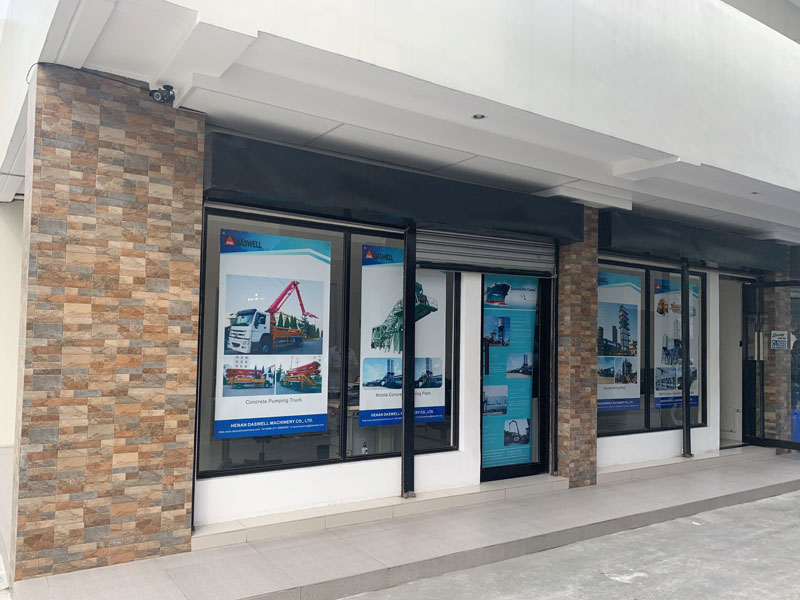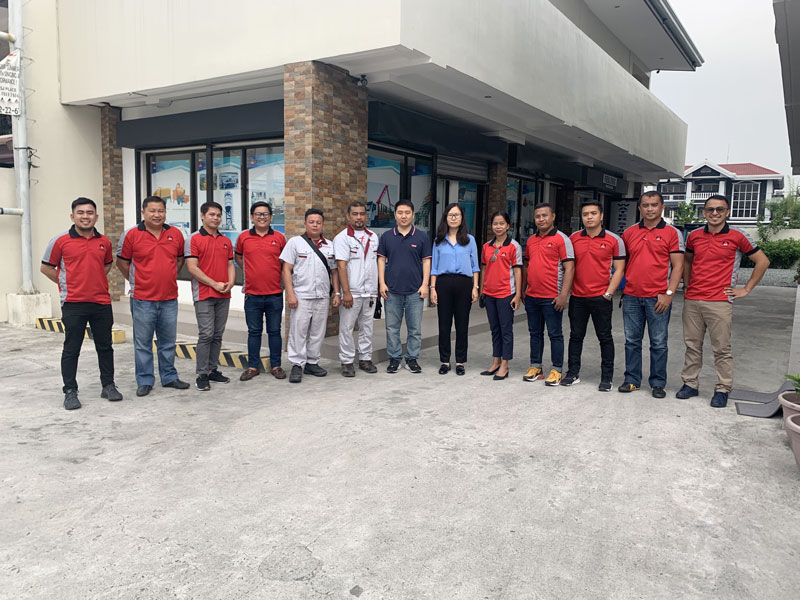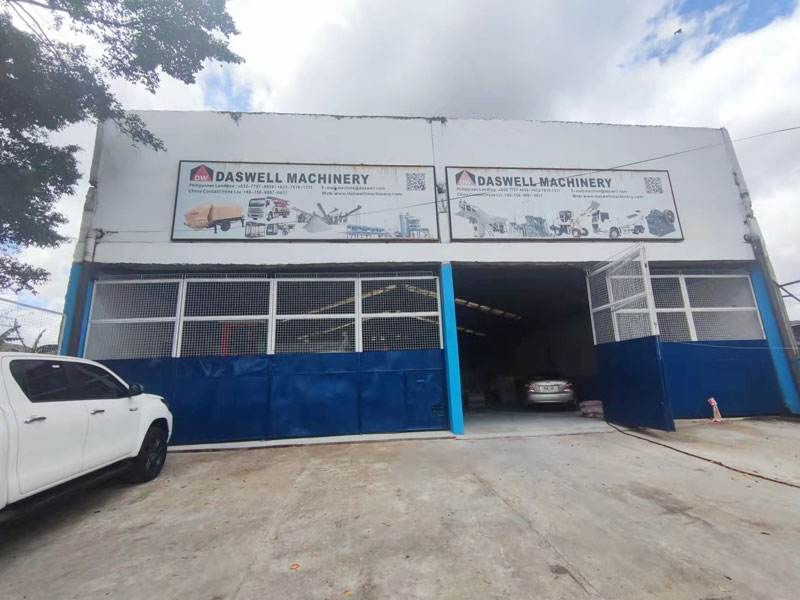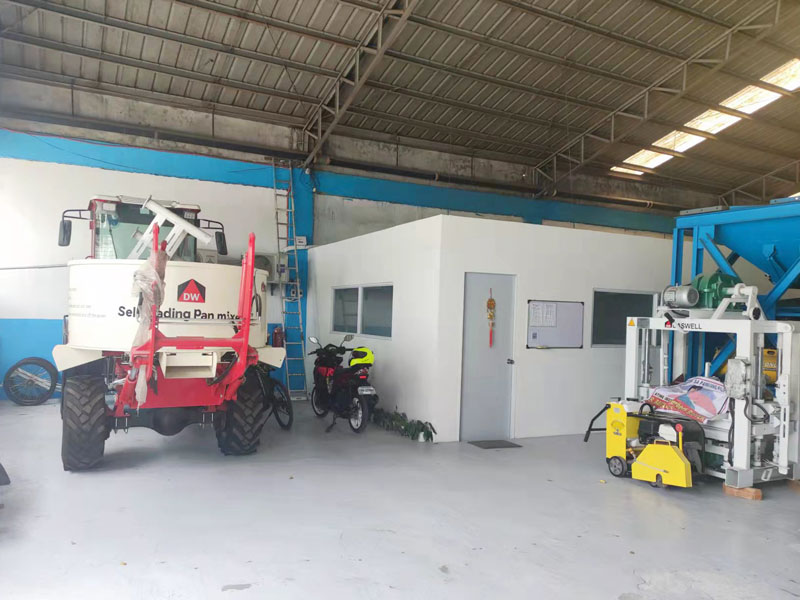 Welcome to leave your message to us if you need a concrete batching plant in philippines! You will get the best quotation from our company!