In the process of global modernization, the demand for concrete is incalculable. The wide market prospect and lucrative profits have attracted a large number of investors to enter this industry. But there are so many customers who may not quite understand how to buy the right concrete batching plant for themselves. Next, I will introduce some factors that need to be noted when investing in a concrete plant.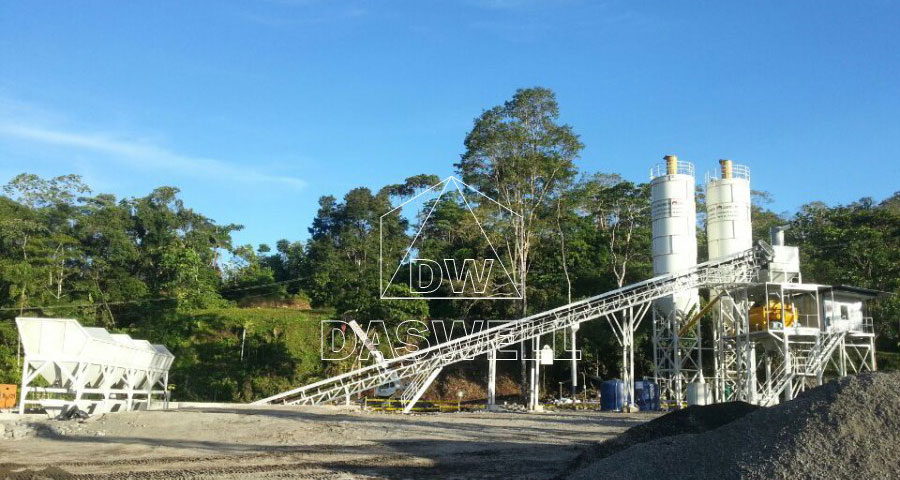 The location of concrete batching plant
The site of the concrete mixing plant should be near the power and water supply. Convenient power supply can ensure the demand of electricity for the mixing plant. Moreover, the water consumption of the mixing plant is large, and the adequacy of water source directly affects the continuity of production.
In addition, the production process of the concrete plant may cause certain dust and noise pollution, so the site selection should try to avoid the city center, residential areas, schools and other densely populated places. In addition, the site should also consider whether the traffic is convenient, whether the terrain is flat, whether the industrial land procedures are complete and other factors.
Close to the origin of raw materials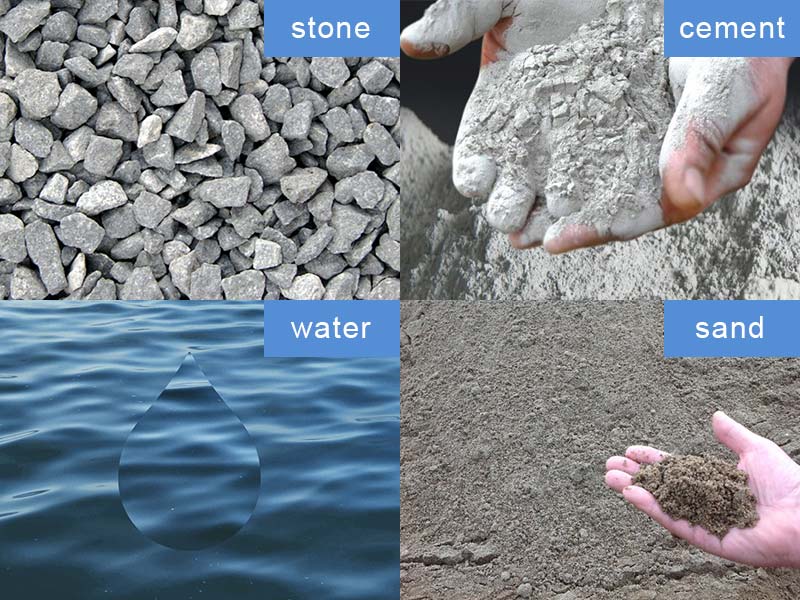 Why should we consider the proximity of the concrete batching plant to the source of raw materials?
On the one hand, close to the source of raw materials can reduce the transportation time and make the transportation of raw materials more convenient, which can ensure the continuous production of the concrete batch plant.
On the other hand, The short distance of raw material transportation can save transportation cost and increase revenue. Generally speaking, the service radius of raw materials is about fifty to one hundred kilometers.
Suitable type and model of concrete plant
As we all know, the concrete batching plants include stationary type and mobile type, while stationary cement batching plants can be divided into skip hopper type and belt conveyor type.
Stationary type hopper concrete plants adopt the way of hopper loading. Because of its small footprint and easy installation and operation, it is generally suitable for small and medium-sized projects, and its models include, CBP25, CBP35, CBP50, CBP75. If you need to produce concrete for your own projects, this type plant is good for you.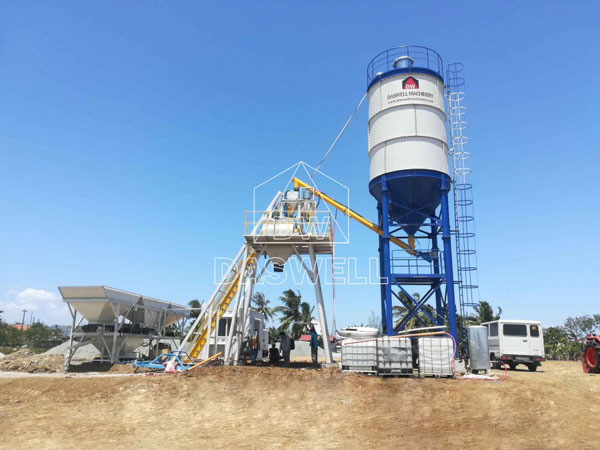 The stationary belt type plant transports the concrete by the belt conveyor. Because of its high degree of automation and high quality, it is generally suitable for concrete manufacturers, or customers with high demand for concrete . Its models include, CBP60, CBP90, CBP120, CBP180, CBP240.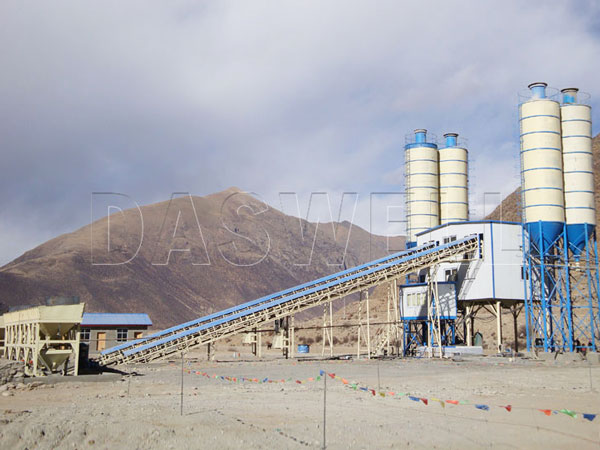 The mobile concrete batch mixing plant is generally suitable for projects with short construction period and need to be moved frequently due to its easy movement and installation. In addition that, it doesn't need to lay the foundation before installation. Its models include MCBP25, MCBP35, MCBP50, MCBP5, MCBP100, etc.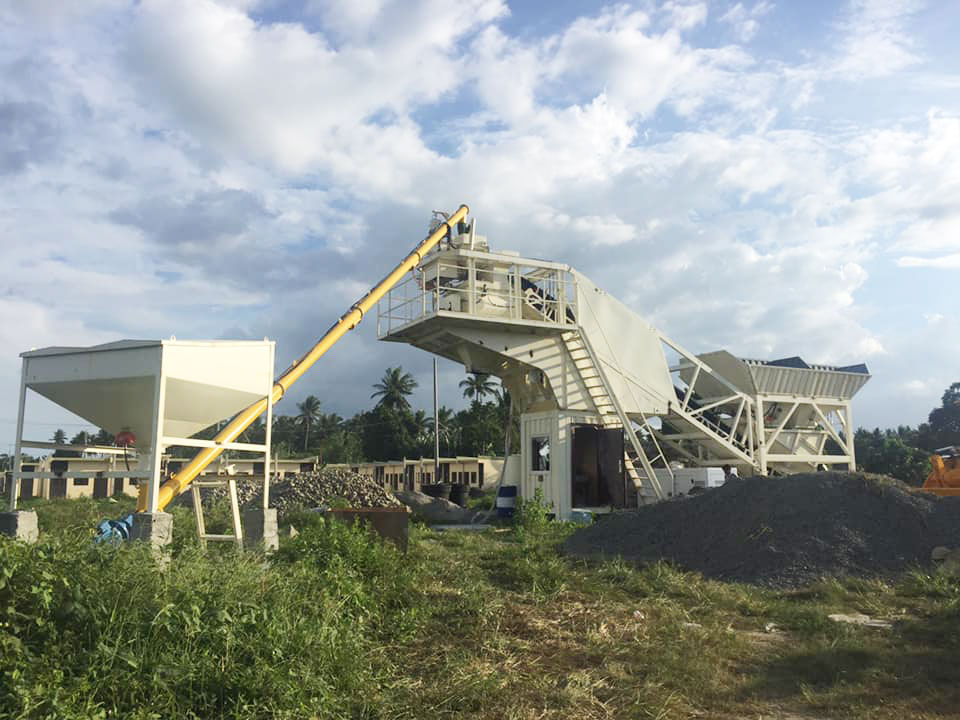 For the model, it is really about choosing the concrete mixing plant with the right output. The output of the batching plant for concrete ranges usually from 25 cubic meters to 240 cubic meters per hour. You can choose the right model according to the approximate demand of your project per hour or per day. One thing to note is that, in general, the actual output of a cement mixing plant is a bit smaller than the theoretical output, so when you need to produce 75 cubic meters of concrete per hour, you should not invest in a CBP75 plant, but should choose a CBP90 plant with a slightly higher output.
Skip hopper stationary type
Model

CBP25

CBP35

CBP50

CBP75

Capacity (m³/h)

25

35

50

75

Mixer

TCM500

TCM750

TCM1000

TCM1500

Aggregate Bin

ABM800

ABM1200

ABM1600

ABM2400

Discharge Height (m)

3.8

3.8

3.8

3.8

Cycle Time (s)

72

72

72

72

Weighing
Accuracy
(%)

Aggregate

±2

±2

±2

±2

Cement

±1

±1

±1

±1

Water

±1

±1

±1

±1

Additive

±1

±1

±1

±1
Belt conveyor stationary type
Model

CBP60

CBP90

CBP120

CBP180

CBP240

Capacity (m3/h)

60

90

120

180

240

Mixer

TCM1000

TCM1500

TCM2000

TCM3000

TCM4000

Aggregate Bin

ABM1600

ABM2400

ABM3200

ABM4800

ABM6400

Discharge Height (m)

4

4

4

4

4

Cycle Time (s)

60

60

60

60

60

Weighing
Accuracy
(%)

Aggregate

±2

±2

±2

±2

±2

Cement

±1

±1

±1

±1

±1

Water

±1

±1

±1

±1

±1

Additive

±1

±1

±1

±1

±1
Mobile type plant
Model

MCBP25

MCBP35

MCBP50

MCBP75

MCBP100

Capacity (m3/h)

25

35

50

75

100

Concrete mixer

Model

TCM500

TCM750

TCM1000

TCM1500

TCM2000

Mixing power (kw)

18.5

30

18.5×2

30×2

37×2

Output per batch (m3)

0.5

0.75

1

1.5

2

Max. aggregate size

≤60/80

≤60/80

≤60/80

≤60/80

≤60/80

Aggregate bin (m3)

2×8

2×8

4×8

4×8

4×10

Walking speed (km/h)

20

20

20

20

20

Weighing accuracy

Aggregate

±2%

±2%

±2%

±2%

±2%

Cement

±1%

±1%

±1%

±1%

±1%

Water

±1%

±1%

±1%

±1%

±1%

Additive

±1%

±1%

±1%

±1%

±1%

Discharge height (m)

3.8

3.8

4.0

4.0

4.0

Total power (kw)

40

55

75

105

135
Configurations of cement plant
The cement plant is composed of aggregate batching machine, concrete mixer, cement silo, control system, belt conveyor and other components. The choice of these components will also affect the performance of the whole plant, for example, the choice of mixer brand.
As we all know, the mixer of Sicoma is famous all over the world, so if you are looking for better mixing quality, you can choose the mixer of Sicoma. For example, for the control system, you can choose the fully automatic control type or the semi-automatic control type. The choice of these basic supporting equipment will affect the performance of the whole plant and thus its production capacity.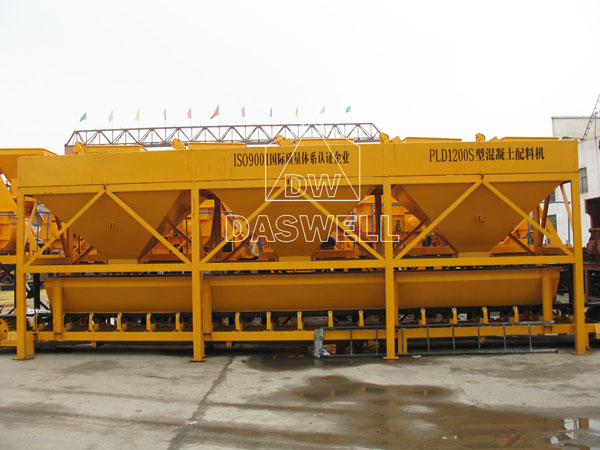 aggregate batching machine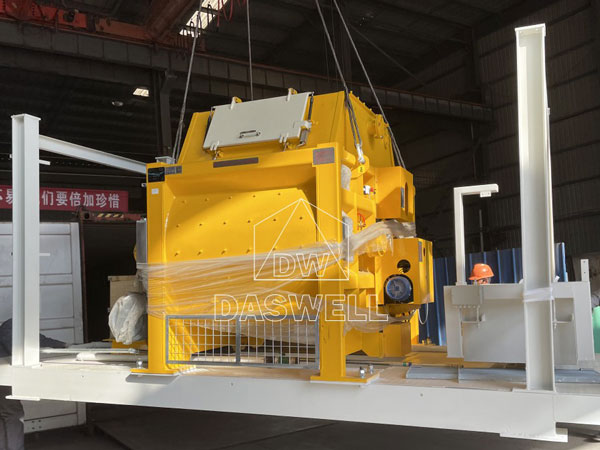 twin shaft mixer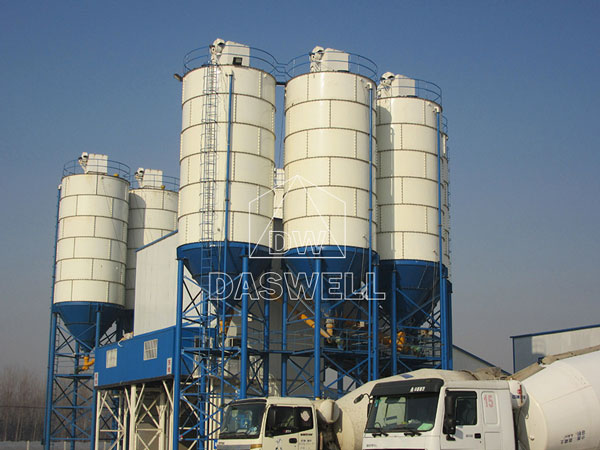 cement silo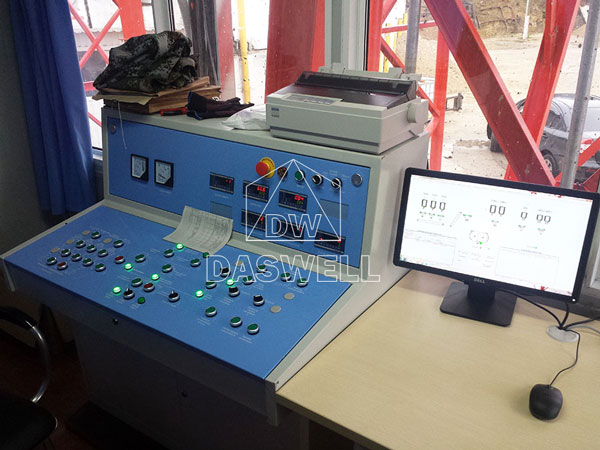 control system
Related supporting facilities
In addition to configuration, you also need to consider related supporting equipment, such as concrete mixer trucks. After you have produced the concrete, you need the concrete mixer truck to transport the concrete to the construction site. Therefore, before buying a concrete mixer plant, you also need to plan whether you need to buy auxiliary equipment such as a mixer truck.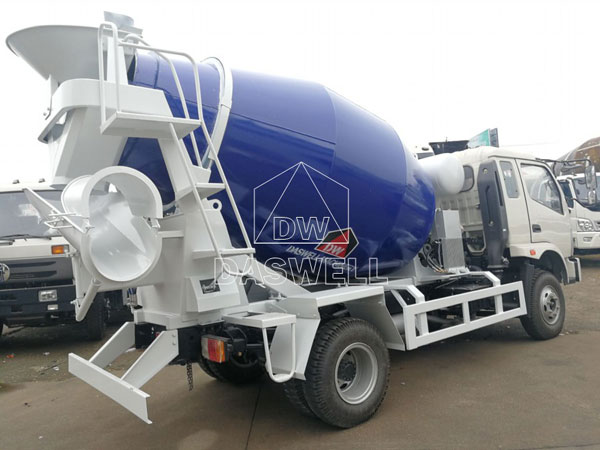 It is recommended that customers buy a complete set from the same company when they purchase. The same company produces products with high matching, which can greatly improve the construction efficiency and thus bring more profit to customers.
Consider your budget
The price of the concrete batching plant is also one of the factors that many customers are more concerned about. After understanding the quotation of the plant provided by some manufacturers, you will find that the quotation of the more famous brand plant will be higher, while some small manufacturers provide you with a very low price but the quality is not guaranteed.
You may not be very satisfied with either of these two situations. At this time, you have to consider your budget and look for a more cost-effective equipment under the same cement batching plant configuration.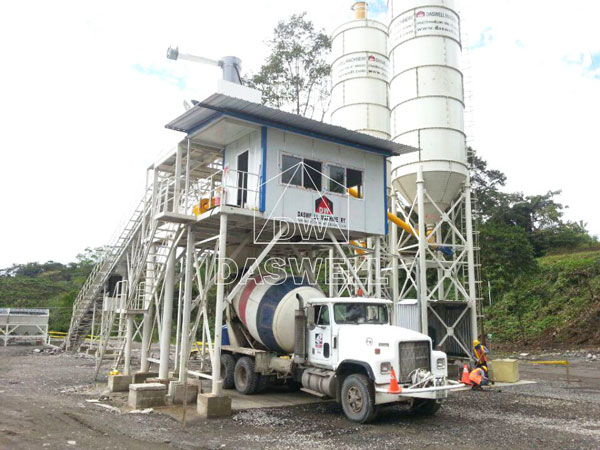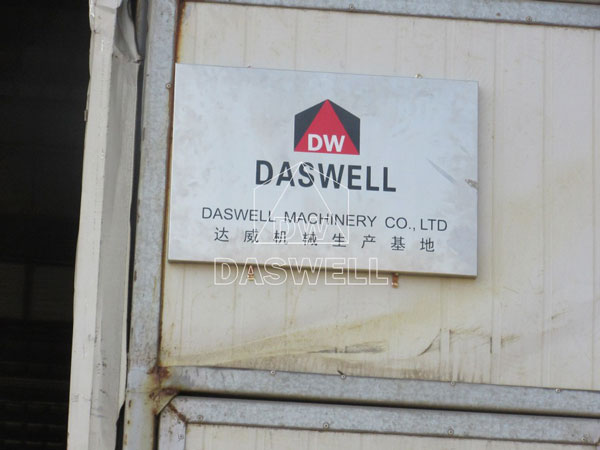 Just like us, Daswell Machinery, we have been committed to providing our customers with the most cost-effective equipment at the best price, so that more customers can benefit from it. Because we have our own factory, there is no middle cost, so we can offer better price. And our engineers will configure the most suitable concrete batching plant for our customers.
Pay more attention to after-sale services
When buying a concrete batching plant, you also need to consider what after-sales service the manufacturer can provide you with. This is because in the process of using your plant, you will inevitably encounter some problems, such as installation, commissioning, etc.. When you encounter these problems, if your concrete plant manufacturer can quickly solve the problem for you, this will largely reduce the downtime of your machine and reduce the loss of your downtime.
Moreover, a good manufacturer will provide you with some other after-sales services, such as training for operators, regular maintenance and inspection, regular return visits, etc. So, when you buy a concrete batch plant, you should understand this information clearly.
Installation
Debugging
Operator training
Deliver spare parts
Maintenance
Regular return visit
To sum up, customers should not choose larger or smaller companies when investing in mixing plants. Manufacturers of well-known brands may have a product premium, resulting in products that are not cost-effective. But too small manufacturers have no guarantee of service and quality. Therefore, it is important to choose an experienced and trustworthy concrete batching plant manufacturer for investment, so as to get high quality products and excellent service.
Frequently Asked Questions
How long does it take to start to benefit from investing in a concrete plant?
The cost of the mixing plant only accounts for a small part of the overall project cost, there are also site costs, foundation costs, personnel costs, maintenance costs, etc. Generally speaking, a mixing plant with an output of 120 cubic meters per hour can produce about 50,000 cubic meters of concrete to pay for itself. If the mixing plant works 8 hours a day, the investment cost of the plant itself can be recovered in two months. Customers can calculate according to the local concrete price, sand and gravel material price, cement price, water and electricity price.
What is the approximate size of the floor space of a batching plant?
After determining the output required by the customer, we will provide a schematic drawing. In the scheme drawing, the size of the equipment will be shown, and the customer can plan the site according to the equipment size. If the customer's site is limited, we can also adjust the mixing plant according to the customer's site size to meet the needs of the customer's site.
How long does it take to install a cement plant?
Generally speaking, it takes about 15-20 days to install a small concrete mixing plant. The installation of a large size concrete batch plant takes about 30 days. The specific situation also depends on the site.